ESPN commentator Sage Steele has found herself in the middle of a Twitter fray since Tampa Bay Buccaneers wide receiver Mike Evans took a knee to protest Donald Trump's presidential victory.
Steele posted this:
And all hell broke loose. Steele was accused of being everything but a child of god. Many saw her stance as tone-deaf and accused her of being afforded white privilege because she is biracial and married to a white man.
One of Steele's biggest critics was Miko Grimes, wife of Evans' teammate Brent Grimes, who blasted Steele with all the language afforded her. In short, she told Steele … well, you can read it all here.
G/O Media may get a commission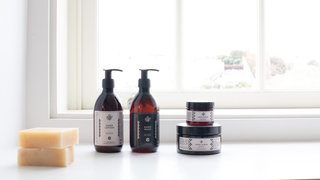 Exfoliate and Hydrate
The Handmade Soap Company
Steele then took to Facebook to post a lengthy missive about diversity and again took black folks back to the woodshed.
I don't know Sage Steele. I know that I enjoyed her work with ESPN and found her to be an informative sports commentator who stood toe-to-toe with Jalen Rose (arguably my favorite sports analyst) and Doug Collins. But I don't know much else. Until this Twitter fallout, I couldn't have told you anything remotely interesting about Steele, but now I think I'm starting to get a picture.
Like looking at an old Polaroid photo, I see the edges of an All Lives Matter advocate who's using her pulpit to criticize black people during a trying moment. Chastising black people for not being more inclusive seems tone-deaf when, at the time of this writing, more racist controversial figures are joining Trump's Cabinet.
The thing is, I don't need Steele to be vocal about the killings of unarmed black men, women and children at the hands of the police. I don't know if she voiced this same concern when Trump was spewing hatred toward everyone who is not white and male. I know that Steele agrees with Jason Whitlock, who has proved himself to be a mouthpiece for white conservative respectability, pull-your-pants-up bulls—t rhetoric. I also know that Whitlock has a horrible assortment of magician hats that need to be spoken out against.
I know that Miko Grimes went all the way in. I know that her language wasn't the King's English, and I know that people dismiss her because of it. That's historical, too, and rooted in a larger debate about proper speak (commonly considered the white man's language) versus black speak. There is an inherent loophole in this argument that makes her position easy to dismiss: If I can prove that your language is ghetto, then your position, by default, becomes moot.
In doing such, though, we may miss a larger part of the debate. The real question is, was Grimes wrong? Was Grimes wrong to challenge Steele's position that kneeling during the national anthem is a protest against the military (which is a red herring created by the right to take the focus off the larger issues surrounding silent protest)? Was Grimes wrong to challenge Steele's relationship? Yes. And Steele had some valid points about inclusion and diversity in her Facebook post, but the timing of it all seems a bit out of touch.
Currently, blacks, gays, Muslims, Latinos—hell, everyone who isn't a white male—are staring down the barrel of a long shotgun being held by an orange man who still, even after winning the presidency, trolls on Twitter. So talking about diversity while the nation of nonwhite males is standing in front of said shotgun probably isn't the best use of your voice.
So, thank you, Sage Steele. We have seen the light and will forever be more inclusive. Now, do you have any suggestions on how we deal with police brutality in the black community and the impending presidency of one of the most racist, vilest men ever to become one? Do you have any Facebook posts that you'd like to pin to the top of your Twitter page about white-supremacist-adjacent Steve Bannon and his new position as the president-elect's chief strategist, or the recently announced nomination as attorney general of a man so racist, he couldn't become a federal judge?
Do you have anything to say about this?
Stephen A. Crockett Jr. is a senior editor at The Root. Follow him on Twitter.