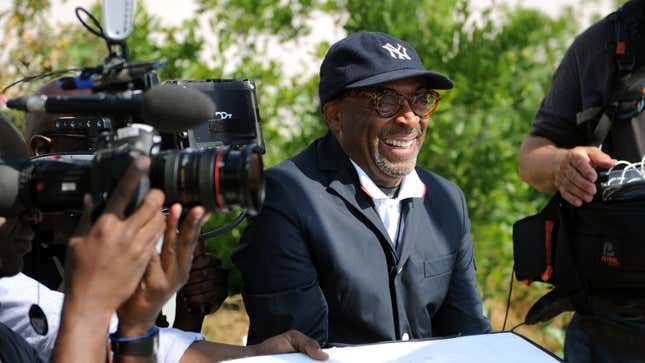 If you can believe it, it's edging on 30 years since Spike Lee implored us to Do The Right Thing.
America's Got Talent Host, Terry Crews, Shows Full Gratitude For Writers On Strike
The critically acclaimed "Spike Lee joint" debuted on June 30, 1989, which means it'll be celebrating its 30th anniversary this year. That calls for a special celebration! Well, that's exactly what's being served up as the film is set to be rereleased in theaters to honor its history. And not just any 'ol rerelease, it'll be equipped with 4K restoration! You get to see that iconic "Love/Hate" knuckle ring shot in a pristine picture! Shoutout to Radio Raheem.
And for the purist film fans, there's a 35mm offer, too!
As Deadline reports:
In partnership with Universal Pictures Home Entertainment and the Criterion Collection, the re-release will include one-week engagements as well as single-day showtimes June 30 at select AMC, Regal Cinemas, Cinemark, and Alamo Drafthouse theaters. There also will be 35mm screenings at select theaters in New York, Los Angeles, Chicago, Austin and Brookline, MA.
There will also be a subsequent Blu-ray/DVD release with 4K restoration on sale July 23.
"When Spike Lee's revolutionary Do the Right Thing was released by Universal Pictures 30 years ago this June, it ignited a national conversation on race and race relations in America that challenged our assumptions about ourselves and our country and heralded the arrival of a generation-defining filmmaker," Jim Orr, Universal's President of Domestic Theatrical Distribution said in a statement via Deadline.
Lee was nominated for Best Original Screenplay for Do The Right Thing. Though he didn't win, he experienced a sort of "circle of life" moment when he did end up winning a screenwriting Oscar (and his first-ever non-honorary statuette) for BlacKkKlansman in February 2019 (Best Adapted Screenplay).
"In the decades since [Do the Right Thing], Universal has released six of Lee's most unforgettable films including Crooklyn, Mo Better Blues, Jungle Fever and Inside Man," Orr added in the statement. "And last year, NBCUniversal's Focus Features released Lee's acclaimed BlacKkKlansman, which earned Lee his long-overdue first Academy Award. Universal is honored by Lee's enduring relationship with the studio, and we are thrilled to re-release his masterwork Do the Right Thing with this extraordinary new restoration."