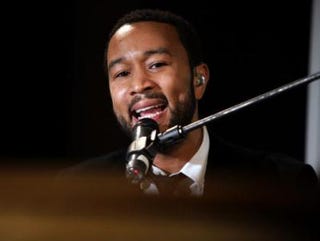 R&B singer John Legend may have told The Root that he was not optimistic about the midterm elections, but that didn't stop him from recording a radio ad for the Democratic National Committee to urge voters, especially African Americans, to "make history again." Titled "Out There" — a riff off of Legend's hopey-changey hit "If You're Out There" — the radio spot warns that "the Republicans want to put us back on the very same path that got us into this mess ­and we can't let that happen."  The ad will run on a whole slew of black-targeted radio programs across the country, including the syndicated shows of Tom Joyner, Steve Harvey and Michael Baisden.
You can hear it on BarackObama.com.
Sheryl Huggins Salomon is senior editor-at-large of The Root and a Brooklyn, N.Y.-based editorial consultant. Follow her on Twitter.