When a federal judge ruled Tuesday that AT&T could purchase Time Warner for the whopping sum of $85 billion, many predicted that the case would pave the way for other such mergers, including a potential bidding war over the assets of 21st Century Fox. On Wednesday, those predictions came true as Comcast threw its hat in the ring with an offer that tops the one Disney recently made to acquire Fox.
In December, Disney signed a $52.4 billion all-stock deal to buy major parts of 21st Century Fox, including 21st Century Fox movie and television studios, and a cable group consisting of FX Networks, National Geographic, more than 300 international channels and 22 regional sports networks. The deal would also double Disney's stake in the Hulu video-streaming service to 60 percent. In addition, Disney would take on $13.7 billion of Fox's debt, bringing the actual total of the deal to $66.1 billion.
Not to be outdone, Comcast came with the big joker Wednesday and made an unsolicited offer of $65 billion in cash for Fox's assets, CNET reports. Comcast's offer is worth $35 per share in cash, a 19 percent premium over what Disney is offering. In addition, Comcast would pay the $2.5 billion breakup fee that Fox agreed to with Disney, as well as an additional $1.53 billion fee that would have been paid to Disney, bringing the offer total to $69.3 billion.
G/O Media may get a commission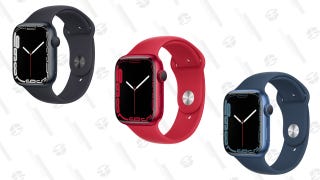 Up To $45 Off
Apple Watch Series 7
Comcast delivered a letter to Fox's board of directors—including Rupert, Lachlan and James Murdoch—specifically addressing and countering Disney's offer.
"After our meetings last year, we came away convinced that the 21CF businesses to be sold are highly complementary to ours, and that our company would be the right strategic home for them," Comcast CEO Brian Roberts said in the letter.
Comcast also owns 30 percent of Hulu, and its stake will also be doubled, to 60 percent, if the deal is approved.
Fox is due to vote on the Disney offer July 1o.
Expect to see more deals like this going through as content distributors look to purchase content creators and make themselves more competitive against streaming companies like Netflix and Amazon.com.