Previously on the White House Apprentice, shit was going crazy and everyone was getting fired. The president kept putting his foot in his mouth and siding with racists, and now multiple sources are reporting that Donald Trump's Head of Racism and Intolerancechief strategist Steve Bannon, who is often credited with salvaging Trump's presidential campaign, has been relieved of his duties at the White House.
NPR reports that his departure is described by the White House as a mutual agreement between Bannon and White House Chief of Staff John Kelly.
There have been many calls for Bannon to be ousted from the White House since the beginning of his tenure. His white nationalist stance notwithstanding, as head of Breitbart News, Bannon made no secret of his anti-immigrant, anti-Muslim views long before he hitched his trailer to Trump's wide-ass wagon.
Trump hinted earlier this week that things might not be looking so good for Bannon when he told reporters Tuesday, "I like him. He's a good man. He's not a racist, I can tell you that, but we'll see what happens with Mr. Bannon."
Bannon may have been an asset when he effectively mobilized disaffected white male voters during Trump's campaign, but as NPR points out, that skill set became a liability once the men reached the White House:
The original, shock-and-awe travel ban spearheaded by Bannon was quickly rejected by federal courts. His efforts to strong-arm lawmakers into passing a repeal of the Affordable Care Act backfired. And Bannon feuded openly with other White House staffers, including Jared Kushner, the president's son-in-law, national security adviser H.R. McMaster, and National Economic Council Director Gary Cohn.
G/O Media may get a commission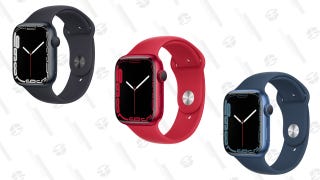 Up To $45 Off
Apple Watch Series 7
And of course his toeing the proverbial line came to a head earlier this week when he went rogue and gave an unauthorized interview to progressive magazine the American Prospect.
As reported by The Root's Stephen A. Crockett Jr., during that interview, Bannon boasted that his opponents inside the departments of Defense, State and Treasury are "wetting themselves," even adding how he plans to get rid of those who oppose him; he also contradicted Trump's play on war with North Korea and called white nationalists "a collection of clowns," something that his boss had been unable to do since the terrorist attacks in Charlottesville, Va.
It would appear that he signed his own pink slip, as it were.
But now there are rumors that Bannon is not planning to go without a public, messy fight.
I guess we'll just have to wait and see how all of this plays out.
Read more at NPR.