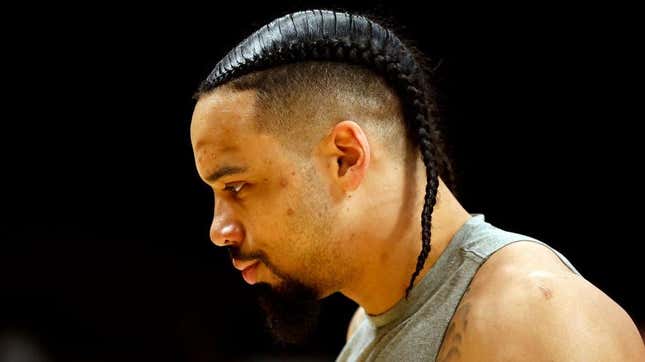 Heels are necessary in the world of sports. They make the product on the floor more entertaining for fans and the game more intense for the players going against them. All sides win. Except, when that villain breaks character. That is what has happened to Memphis Grizzlies forward Dillon Brooks in the last two games against the Los Angeles Lakers. He's breaking character.
Top Class Season 3 Is Our Black TV Pick of the Week
After the Grizzlies' dominant Game 2 win over the Lakers last Wednesday, Brooks' villain persona was stronger than ever. He had a lot to say about LeBron and the approach he took to antagonize the NBA's all-time leading scorer.
Despite the blatant disrespect he had for LeBron in this clip, I liked what Brooks had to say. It's what fans want. We want players to talk trash. We want teams to have animosity toward each other. We want the pettiness. We want it all. But ever since his postgame comments last week, Brooks has been pathetically silent both on and off the court.
In Game 3, Brooks shot a terrible 3 for 13 from the field and was ejected after he hit LeBron in his manhood early in the third quarter. The Grizzlies would lose that game 111 to 101. He refused to speak to the media after the game. In Game 4 of the series on Monday night, Brooks repeated his poor performance and was the primary defender as LeBron scored a game-sealing And-1 in overtime.
Again, Brooks refused to speak to the media after the Grizzlies loss.
The downfall of a villain
The Grizzlies' loss to the Lakers in game 4 of their playoff matchup was not the death of Brooks' villain arc, it was his refusal to talk to the media. It's his silence. Despite his best efforts to make it seem like the "media" are the ones that made him a villain, it was his own doing. He was the one screaming in LeBron's ear during Game 2. He's the one who said James is "old." He's the one who said he doesn't respect anyone until they give him 40. He's the one who said he "pokes bears."
But now that the bear has poked back you want to be quiet. It doesn't work like that bro. You don't get to just talk your shit when you're up, you gotta continue to talk even when you're down.
Look at Draymond Green in Game 2 of the Warriors' series against the Kings. Despite being ejected and his team losing, Draymond continued to talk to the fans. Being down by a couple of points didn't affect him. That's the mark of a true heel.
If Brooks wants to keep his villain arc alive, the tough talk has to continue. If he doesn't, then just be quiet and take your L.