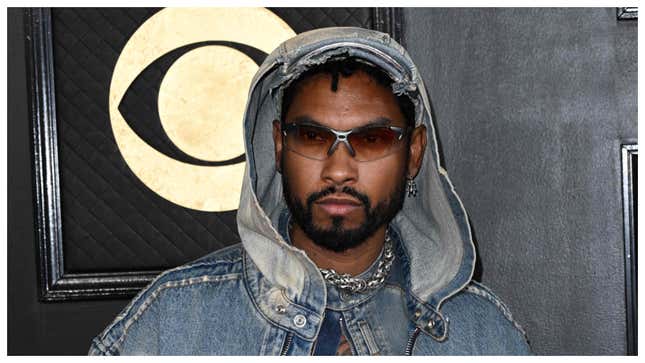 R&B singer Miguel has shown a new level of dedication to his craft, and we don't know how to feel about it.

Grammys 2022: 10 Black Artists Who've Won Album of the Year
On August 25, 2023, the Grammy Award-winning artist performed songs from his upcoming album at the Viscera Experience in Los Angeles. The part that makes us all a little woozy? He was suspended in the air by ropes pierced through his skin. Yep, you read that right. His skin!
Miguel posted a picture on Instagram of his back where the damage was done simply captioning it, "What is your relationship to pain? What is your relationship to change?"
The "Sky Walker" singer sang four songs at the intimate performance and during the song titled "Number 9", he had the hooks pierced into his skin in front of the audience which included celebrities like Evan Ross and Lena Waithe.
If this is a way to bring attention to new music, it's safe to say that that mission was accomplished. It's been six years since Miguel released an album, his last being War & Leisure (2017) which was nominated for a Grammy for Best Urban Contemporary Album. However, is this the type of publicity that he needed? Plenty of artists take to the skies while performing from P!nk doing aerial stunts at many of her concerts nowadays to Beyoncé flying over audiences on the Renaissance Tour, but traumatizing your audience with having a painful procedure while they just came to listen to some new music? We doubt anybody bought a ticket to this concert thinking that those antics were in the cards.
How do fans feel about the ordeal? Do they think that this is revolutionary and admirable or just a step too far? X users typed their opinions with the consensus being that people don't know a single song that requires this kind of theatrics.