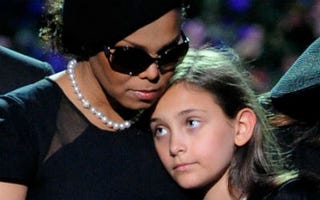 It's been a difficult and dramatic week for the Jackson family, with ongoing reported disputes about Michael's estate and an announcement that his mom, Katherine, was presumed missing. (She was later found to be in Arizona, where she's reportedly resting.)
Today we're hearing about a fight involving multiple family members, in which Janet — who memorably comforted a distraught Paris at Jackson's memorial service — allegedly slapped the teen. From MTV:
On Monday (July 23), a fight broke out at Michael Jackson's mother, Katherine Jackson's, home in Calabasas, California. Multiple family members were involved, including MJ's daughter Paris Jackson and his sister Janet Jackson.

Sources tell TMZ that Randy, Jermaine and Janet Jackson entered the home uninvited and then tried to coerce Michael's children, Paris, Prince and Blanket, into coming with them to Arizona where their grandmother Katherine has been staying.

Sources say that Paris resisted the intervention and apparently things got violent. Allegedly, Janet slapped Paris and yelled, "You're a spoiled little bitch!" to which Paris responded with a slap and told Janet, "This is our house. Not the Jackson family house. Get the f—k out!"
Between a major loss, issues surrounding money and their public image — not to mention the difficult family dynamics that fame doesn't change — the Jacksons are clearly dealing with a lot. We hope — if only for the sake of the kids who lost their father and for Michael's memory — that they're able to sort it out.
Read more at MTV.