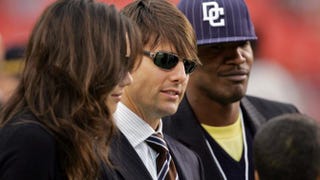 Rumors began to swirl this week as actress Katie Holmes was spotted in New York City with a ring on her left-hand ring finger, and her long-rumored boyfriend, Jamie Foxx, was also photographed with a gold band on his ring finger, TMZ reported Friday.
Holmes, 37, has allegedly been dating Foxx, 48, for at least two years, but the couple has kept a relatively low profile.
Foxx has known Holmes for years and is reportedly a good friend of Tom Cruise, Katie's ex-husband and father of her 9-year-old daughter, Suri.
As of Friday, reps for both of the stars were saying that they're not "engaged." But hey, that doesn't mean not "married."
Hmmmm.
Read more at TMZ. 
Like The Root on Facebook. Follow us on Twitter.