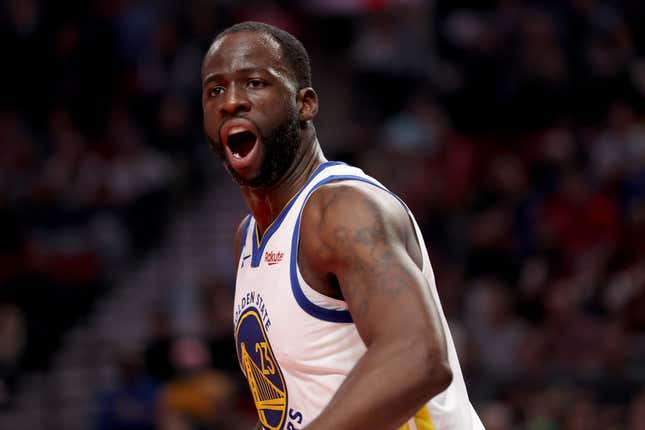 Updated 4/19/2023 at 9:05 p.m. ET:
After being ejected in the fourth quarter of Monday night's game, Golden State Warriors star Draymond Green has been suspended for one game. The NBA announced the punishment on Tuesday, saying in a statement, "The suspension was based in part on Green's history of unsportsmanlike acts."
Terry Crews Talks AGT, Hidden Talents, & Falling For A White Chick
The suspension is in response to an incident between Green and the Sacramento Kings' Domantas Sabonis, which ended with the Warriors star stepping on the Kings forward's chest.
Meanwhile, on Tuesday, the Kings announced that Sabonis is questionable for Game 3, as he has a bruised sternum.
Draymond will serve his suspension on Thursday when the Warriors play the Kings in Game 3 of their first-round playoff series. Sacramento currently leads the series 2-0, making Game 3 critical for the Warriors. Now they will be without one of their most important players.
See the original story below:
You know it's NBA Playoff time when Draymond Green goes completely off the rails and leaves his team hanging. This time, he got himself ejected by literally stepping on an opposing player's chest. Seriously, at some point the Golden State Warriors have to weigh his defensive skills and veteran presence against how all his antics negatively impact the team.

On Monday, with around seven minutes left in the fourth quarter, Green got tangled up with the Sacramento Kings' Domantas Sabonis. As the Kings forward fell to the floor, he grabbed Green's leg and the four-time champion shook off the contact. This was followed by Draymond stomping on Sabonis' chest. Referees charged Sabonis with a technical foul for grabbing the Warriors forward's leg, while Green was given a flagrant foul 2, which leads to an automatic ejection. At this point in the game, Sacramento was leading 91-87, which is definitely still a winnable game for the defending champs. However, the Kings ended up with the 114-106 victory. While Draymond's ejection wasn't the only reason they lost, it didn't help that he wasn't on the court when they needed him most. During the post-game press conference, he described what happened, and as usual, it wasn't his fault.
"My leg got grabbed—the second time in two nights—and the referee is just watching," Green said. "I got to land my foot somewhere, and I'm not the most flexible person, so it's not stretching that far. I can only step so far with someone pulling my leg away."
Sure, this elite level, championship athlete has so little control over his body that he couldn't help it when he STOMPED ON A GUY'S CHEST! Here's the thing: Somehow Draymond keeps finding himself in these situations where the only way he can possibly defend himself from other players is to kick them in the groin or stomp on their chest. Moments like these lead to him not being available when his team needs him most. Whatever you think of him, Draymond is a leader and a central piece of their defense, something they definitely needed in the last seven minutes of that game.
Green is in his 11th season, meaning he's closer to the end of his career than the beginning, The Golden State Warriors have to start wondering if his contributions are worth putting up with all the shenanigans. I understand that helping a franchise win four championships buys you a certain amount of leeway, but let's not forget that the season started with him punching teammate Jordan Poole during practice, causing a ridiculous amount of controversy. Now he's in a position where he might be suspended for Game 3 of this series, making things even harder for his team.
Head coach Steve Kerr and Green's Warriors teammates may be publicly supportive, but you can't tell me that privately there isn't some exhaustion with his antics. In this particular instance, Sabonis definitely grabbed him, which is why he also received a technical foul. However, the reason Sacramento has been all over him in these first two games is because we all know Draymond's reputation, so the Kings know if they rile him up enough, they can get him to make a costly mistake, which is exactly what happened. As a four-time champion, Draymond Green needs to play smarter, put his team first and avoid this nonsense. They need you on the court playing defense more than they need you firing them up and playing a wrestling heel for the opposing team's fans.