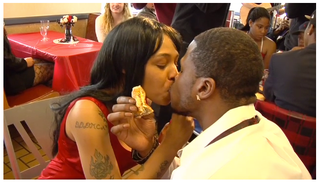 Hours after the royal wedding in London Friday morning, a Detroit couple got married at another castle on this side of the pond. Yep, White Castle. The couple, Marquisa Benford and Donahvan Gray, met at the White Castle two years ago.
"When he came and he flashed those dimples, it melted me. Instantly. I didn't even want to leave the White Castle after that."
They were marrried by an ordained minister named Puddin', who's also a local DJ in Detroit. For the reception, of course, they dined on the restaurant's famous small burgers.
Even "the queen" was in attendance!
Watch this wedding on Detroit Free Press.
In other news: 'Daily Show' Skit on Birthers and Racism, Open Letter Begging Stedman to Marry Oprah, and More.