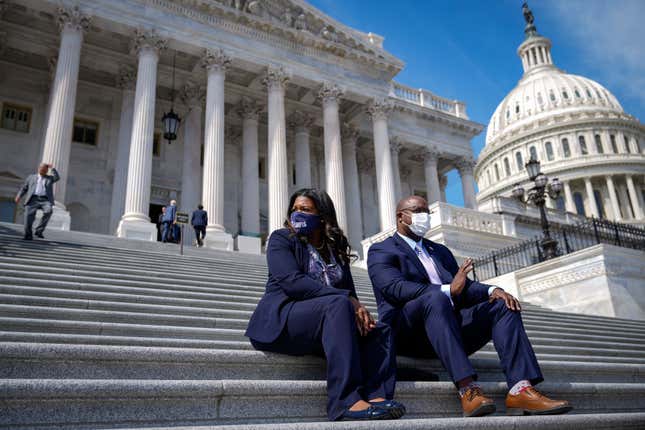 The reality of prolonged solitary confinement is difficult for those of us who haven't experienced it to comprehend. What does it mean to live in complete isolation with nothing but your mind as a refuge? In the case of Kalief Browder, a teen who spent 14 months in solitary confinement, the horror of his situation was too much to bear. In 2015, Browder, who was detained without trial for three years, took his own life.
Kevin Johnson Executed By State of Missouri After Supreme Court Denies Appeal
Despite the fact that United Nations experts have repeatedly condemned the practice of solitary confinement as "torture," it continues to be a common practice in our prison system. A report from the watchdog group Solitary Watch found that in 2019, an estimated 122,840 people were held in "restrictive housing."
Representative Cori Bush (D-MO), whose state has the second-highest population of incarcerated people in solitary confinement, is vowing to change those statistics.
On Thursday, Bush and Representatives Jamaal Bowman, (D-NY), Adriano Espaillat (D-NY), Sydney Kamlager-Dove (D-CA), Rashida Tlaib (D-MI), and Bonnie Watson Coleman (D-NJ) introduced the End Solitary Confinement Act. The legislation would end solitary confinement, establish minimum standards for incarceration and due process protections, and create incentives for states and localities to end solitary in their facilities.
"Solitary confinement is a moral catastrophe. UN experts have condemned solitary as psychological torture—and that's exactly what it is," said Rep. Bush in a statement. "This practice is traumatic for people subjected to it, harmful to communities, and isolating for loved ones."
Rep. Bowman pointed to the fact that solitary confinement is disproportionately weaponized against marginalized communities. "Merciless practices like solitary confinement directly target marginalized groups–including people of color, young people, LGBTQ+ individuals, and Disabled individuals who are already disproportionately impacted by our prison industrial system–and cause lifelong trauma," he said in a statement.
The legislation does allow for temporary isolation to allow for de-escalation. However, it sets a strict 4-hour maximum for the practice in federal prisons. The bill would also decrease allocations of specific federal funds to states that do not implement a ban on solitary confinement.
Although all of the specifics of the bill haven't been polled, Americans are broadly in support of bans on solitary confinement. In 2022, Data For Progress, a progressive think tank, found that 78 percent of Democrats, 61 percent of Independents, and 51 percent of Republicans support ending solitary confinement with the exception of a four-hour maximum isolation period.
Over 150 organizations, including the Federal Anti-Solitary Taskforce, the American Civil Liberties Union, Center for Constitutional Rights, #HALTsolitary Campaign, National Alliance on Mental Illness, and the National Religious Campaign Against Torture, have signed on to support the legislation.
"As someone who has personally endured the torment of solitary confinement, I can attest to the devastating toll it takes on one's mental and emotional well-being," said Johnny Perez, Director of U.S. Prisons Program, National Religious Campaign Against Torture. "The End Solitary Confinement Act is a beacon of hope for those incarcerated in federal facilities nationwide, offering a chance for reform and redemption within our criminal justice system."
Like most Democratic policy priorities, the bill has little hope of passing the House, especially as they tackle end-of-year spending bills. But as we approach an election year where the two parties will battle it out for control of Congress, it's worth watching whether issues like ending solitary confinement can go the distance politically.