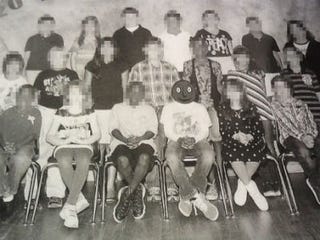 When a second-grader at a Sunrise, Fla., elementary school did not have parental consent to participate in a class photo, he was included anyway. But when it was later apparent that his image would have to be removed from the photo and that his placement in the picture made it impossible to digitally do so, a "crude brown-colored smiley face" was placed over his face, reports the Huffington Post, angering parents.
"It was totally inappropriate," Broward School District spokeswoman Marsy Smith told local news station WPLG. Smith also said Sherry Rose, the school's principal, was shocked when she first saw the photo."She was very, very upset and immediately took action to reschedule a picture-taking session for Thursday."
The photographer reportedly said he was acting on directions from the school's PTA, which organized the photo shoot. There was at first talk of placing a star over the student's face before the idea of a smiley face was brought up, the HuffPost reports.
Read more at the Huffington Post.

Like The Root on Facebook. Follow us on Twitter.