There's a very short list of onscreen characters we wish we were besties with, let alone actual actresses—Tracee Ellis Ross and Insecure's Natasha Rothwell immediately come to mind. But if you're a fan of Netflix's Dear White People, the character "Joelle Brooks," played by Ashley Blaine Featherson, is likely another favorite. The brilliant, always loyal and equally real, absolutely gorgeous but somehow oft-overlooked best friend of lead character Sam White had our hearts from Day One—or should we say, Volume One—and we've been rooting for her storyline ever since.
"Joelle Brooks wasn't used to being second string," the show revealed in Volume Two. Nor should she be.
In the middle of that second season, we got our wish—as well as a stunning cover of Erykah Badu's "Tyrone"—making Joelle a more pivotal part of the show, as well as Featherson being the only actor to have a song on the show's soundtrack. By Volume Three, Joelle was getting her own well-deserved moment in the sun, much to our delight. And the same could be said of Featherson herself, who we caught up with ahead of Wednesday's announcement that a fourth and final volume of Dear White People will soon be blessing our queues.
Like Joelle, Featherson is hyper-intelligent, multitalented (she received her Bachelor of Fine Arts in musical theater from Howard University), empathetic and blessed with incredible skin (chemical peels and African black soap are part of her regimen for luminosity; we're guessing the rest is genetics and good karma). She's also a team player; she and one of her besties, Lena Waithe, co-created the acclaimed web series Hello Cupid, and she's part of the ensemble cast of the episodic program Leimert Park, which premiered at Sundance last year.
G/O Media may get a commission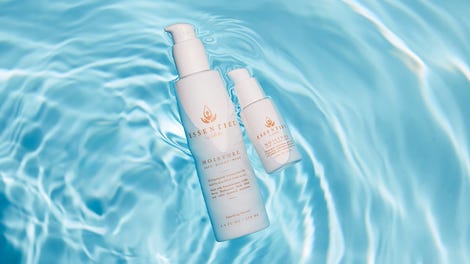 20% off
Essentiel by Adele
But it's her role in Dear White People—a role she originated in the film of the same name (though Joelle was simply known as "Curls" at the time)—that's brought Featherson into our collective consciousness as the best friend we should all have. As she explains, that too, is a collaborative effort, thanks to showrunner and creator (and friend) Justin Simien.
"Justin does a really good job at the top of each season, before we go into production, sitting down with us and asking, 'What are some things you want to explore? What do you want to do as an actor? What do you want to play with? Where do you think Joelle's going this season?'" she said. "And I'm so grateful to Justin for being a show creator and a director who cares enough to even take the time to see what we want to do and where we feel led to go with these characters into the next season."
Proving her point, with only about five lines in the original film, Featherson decided early on that Joelle's motivation was a latent attraction to classmate Reggie, though it wasn't acted upon at the time. But over three seasons, faithful viewers of the show have gotten to see that initial chemistry blossom into a full-fledged and occasionally complicated—though very realistic—romance.
"And then, obviously, a lot of it, too, is that Justin draws from who we are," Featherson continued, touching on the recurrent issues of colorism that necessarily arise when focusing on the lives of a predominantly black cast of characters—or the life of a dark-skinned black actress navigating Hollywood.
"[T]here's been a lot of times that I felt like I've come second, and a lot of that sometimes is directly correlated to the trajectory of life as a darker-skinned black woman. Most of us have had that experience at some point, so a lot of that—you know, from my life or from the lives of women that just happen to look like me (or Joelle)—are woven into this character's path because we deserve to be seen, too.
"And honestly, that's been one of the most rewarding parts, if not the most rewarding part of doing the show, is being able to provide representation for young women who've never seen themselves onscreen in this way," she added. "Because I know that's what I felt when I would look at Kimberly Reese on A Different World, you know what I mean? That's the type of feeling I got, so I'm so glad to be able to do that now on Dear White People."
Another place Featherson wants to represent is in the beauty industry. She co-founded her own skincare line, Blaine Lorenn (currently on hiatus); has appeared in a campaign for The Lip Bar; and even did Waithe's makeup on the night of her history-making Emmy win. And as Season Three of Dear White People premiered in August, so did Mented x ABF, two three-piece collections by the melanin-loving beauty brand designed specifically with dark-skinned makeup lovers in mind, meaning Featherson's hot girl summer was the gift that kept on giving.
"I'm unapologetic about that," she said. "I created this for the brown and black girls in the world, and I had a huge hand in it; this was not just my name slapped on this...We all wanted to make sure that this was a product that Mented and I truly believed in and were passionate about. And honestly, it's one of the things I'm most proud of in my career because it, again, came from a place of love and intentionality with keeping black and brown women first. But also, it's really great...it's like a dream collaboration."
The partnership came about organically; Featherson and Mented co-founders KJ Miller and Amanda E. Johnson are friends, and Johnson was one of Featherson's Alpha Kappa Alpha line sisters at Howard. In fact, the two were meeting up for drinks when the idea first took shape.
"Beauty's always been something that I've been passionate about and I love—beauty and skincare, people have always asked me for advice and tips for," Featherson shared. "And [Amanda] said, "Oh my God, why don't we do it?"
After a year of development, the products—which include a duo-toned bronzer and two lipglosses—offered fans a taste of Featherson's enviable glow, cheekily available in Season 1 or Season 2 ($55 for each collection; $15-$25 for individual products).
"I loved that I was collaborating with a black-owned, female-owned brand—because when you look at me, you first see that I'm black, and I'm a woman, right? So that's always my priority," said Featherson. "So, I love that, and I also love that I was able to really create this for us, you know what I mean?"
We do; just like we know that there's never been a better time in history to be a black creative—and specifically, a black female creative—in Hollywood. It's a movement we're praying isn't just a moment, and as part of an extended but mutually supportive network that includes well-known talents like Waithe, Issa Rae, and Robin Thede, Featherson assured us they are collectively working to make a lasting impact—with the help of the networks now recognizing our cultural influence.
"Where we're shifting—in making sure that our voices are heard, and that we are represented, and that we're represented properly is like—for me, [Netflix's]
Strong Black Lead is an example of the evidence of all of that," Featherson declared. "It's like saying 'You're going to see us; we are important; we are powerful; we are strong. We can lead things—we can lead all of the things, and we deserve that.'
"I'm grateful because when I moved out [to Hollywood] 10 years ago, there was no Strong Black Lead; that did not even kind of exist...there was no initiative to promote black creatives," she added, expressing gratitude for the roles she's able to concurrently occupy as actor, influencer and creator. "It feels great to know that so many of us are so multifaceted; to have our hands and our feet in so many different arenas...Whatever it may be, we've finally figured out we don't have to just stick to one thing; we don't have to stay planted in one lane...So, I'm deeply inspired."
And as for the "there can only be one" ethos that has historically made Hollywood a particularly cutthroat arena for black talent? As Featherson tells us, her own ethos is working just fine.
"If I wanted to have a competitive spirit, or if I wanted to have a life filled with competition, I would have that, too. But I'm choosing to live with intentionality; I love collaboration," she said. "I'm choosing to live in a space where I'm supporting other people's work. I'm choosing to live in a space and in a knowing where I know that me supporting other people only comes full circle back to me...My hope is that I can just continue to contribute to that."
Who wouldn't want a best friend like that?
Correction: Thursday, 10/3/19, at 6:45 p.m., ET: An earlier version of this article mistakenly noted that Mented co-founder KJ Miller was Featherson's line sister at Howard, when it was in fact Amanda Johnson. The article has been edited to correct this.