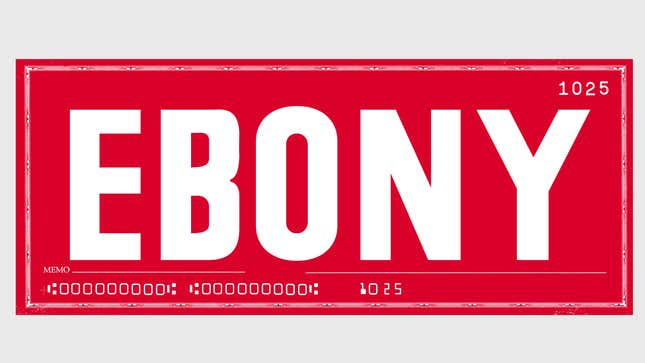 "I write things for money."

There it is. My official slogan since I first started writing professionally back in 1996. Head over to my personal Facebook page, and you'll see it written in my intro. If I were to get a hood tatt, that's the phrase I'd have my cousin ink into my neck with his worst prison handwriting.
Don't come at me with…
"We don't have money to pay, we have a great publication!"
Straight to trash cause you're trash.
"We can't pay, but we can offer you exposure!"
Fuck you and your exposure. Bank accounts die of exposure.
Writing is a craft. I spend a lot of time perfecting my voice, my style. It doesn't just happen.

It's also a discipline. I write every single day. And when I'm not writing, I'm thinking about writing. And then I write what I thought about. And then I erase what I wrote, and start again from scratch in order to rewrite it.

You want, you pay. When I finish this piece, I'll fill out an invoice, and The Root will deposit my fee directly into my bank account. Thems the rules, and as a writer, if you're dealing with a reputable publication(s), then you can scratch out a living. But then you have the fuckboy (are there fuckgirls?) publications that dog you out financially, while keeping up their appearances as being historically significant. Of course, I'm talking about good ole Ebony.
G/O Media may get a commission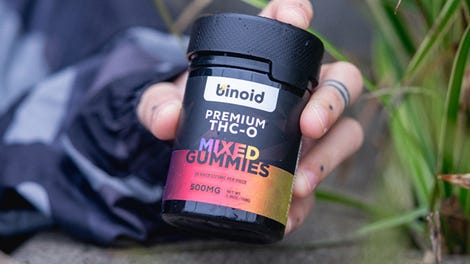 25% Off + Free Shipping
Binoid THC-O Gummies
This Thanksgiving weekend, unless you were serving pumpkin pie and stuffing instead of sweet potato pie and dressing, all of blackness not named Ben Carson uploaded birthday month and year covers for the #EbonyChallenge on social media.

Count me in those ranks.

It was fun to recount the colorism, the black is beautiful, the sexism, the fine women in bathing suits who are now great grandmamas, the classism, the 'is the afro coming back' pieces, and the respectability politics that Ebony covered…and that was just the Bill Cosby covers.
I kid.
But there was also something sinister about that #EbonyChallenge.
You see, the simps that own Ebony today, Willard Jackson and Michael Gibson, ain't responsible for all that black goodness. Nope, they're responsible for not paying black writers thousands of dollars for work already provided. I won't go into it here, because The Root's Michael Harriot and Monique Judge did a fantastic job explaining the situation here and here, but only after many protests, and a lawsuit, have they made partial payments.
But here's the thing. While black writers are literally dying before getting paid, Jackson and Gibson are like, "Fuck them, let's put on a show!"
This weekend, some bullshit ass Ebony Power 100 gala, sponsored by Nationwide Insurance, United Airlines, Lexus, Tanqueray, and Motown, will take place at the Beverly Hilton, the same luxurious locale where the Golden Globes is hosted. Ebony will spend the thousands owed to black writers on rubber chicken, flatulent speeches, and the unmistakable smell of pseudo bougieness, all hosted by comedian Chris Tucker. (Note to Chris: Be like Aretha, Chris, and insist on cash before you tell that first joke, homie…)
These high profile events are designed to let folks know that the publication is tapped into the zeitgeist of blackness by honoring the movers and shakers, and so they're still relevant. Okay, whatever. If black folks wanna clean up well and hobnob about being the hausenfras of the frickenfrat of their various field, more power to you. Float, float on to LinkedIn with your new connects.

But this version of Ebony can't even get the easy shit right. Mari Copeny, aka Little Miss Flint, is #BlackGirlMagic personified, and this 11-year old activist ain't for play play. She's advocated for clean water for Flint, Michigan, raised over $350K for the Pack Your Back non-profit, and won the Ebony People's Choice Award as a 'change agent' after garnering over 24K online votes. Yet, according to her Twitter account, she was told by Ebony that she couldn't attend because this made up event 'wasn't open to the public.'
Simps will always do simp things.

And that got me thinking…fuck Ebony.

Pay the writers, today. Not that "I'll pay you tomorrow when I got time to go to the bank, but I gotta first get a new ID because I lost my wallet, and I'm just hoping to get everything done before everything closes...I'll call you when I have your money..."
Now.
Ebony reached a settlement to pay all of the black writers by New Year's, but some owed writers are still waiting. After missing a deadline to pay an installment to its owed writers by September 30, Ebony was up to date on its payment schedule by November 3, according to a report by Richard Prince. However, some writers not included in the suit are still awaiting payment." [Update: This sentence has been updated to clarify that Ebony was up to date on its payment schedule at the time of this article's publication.]
But why are we allowing Willard Jackson and Michael Gibson to act like your cousin that text you for an emergency loan because the police are gonna repossess his car, then borrows a grip from you, doesn't answer your calls for months, all the while posting vacation pics from Negril on his IG account?

Nah kid, Ebony ain't got no ends en mi casa. So I wanna get them paid before Xmas.

I want to make this clear…there have been a LOT of black writers who've been advocating, protesting, agitating for full payment, way before me. They did all of the heavy lifting, and I want none of their credit. I'm just coming in at the end, mainly because my frat brother, and former National Press Club president Jeff Ballou, challenged me to help the protest.
Okay, bet. I joke that I went to Berkeley, and as students, we protest Tuesday for not being Thursday. This is what we do. Ebony doesn't owe me a nickel, but that's not the point. Right is right, and if Ebony is gonna pimp our black connective tissue for social media likes and shares, then the least they can do is respect the black writers that created the content.
So I have three things for you to do: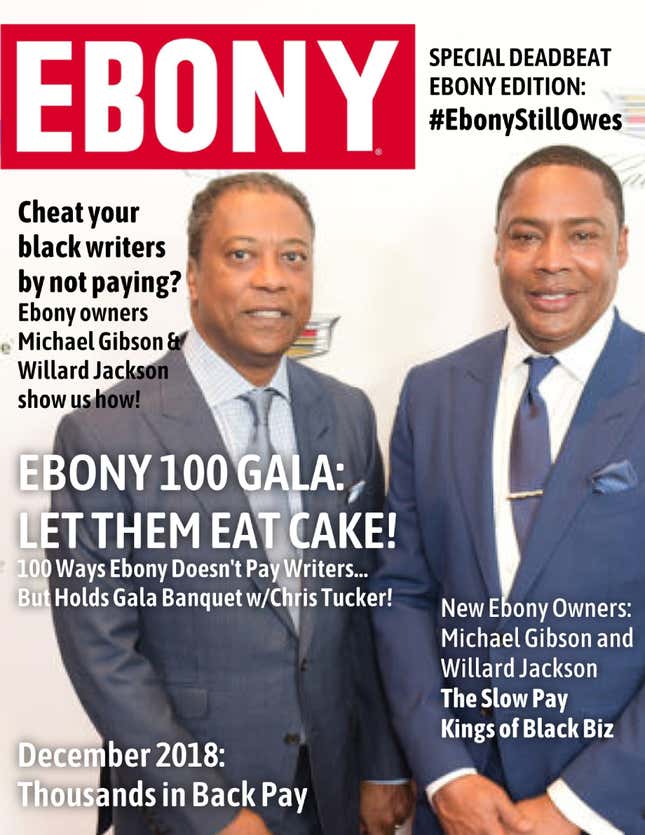 1. See this satirical cover of Ebony? I created it just for y'all. Download it. Put it on your Facebook, IG, and Twitter page. Include the following hashtags: #EbonyPower100 #EbonyGala #EbonyChallenge @EbonyMag #EbonyStillOwes

2. Find Facebook, IG and Twitter threads with the #EbonyChallenge, add this satirical cover, and explain that Ebony owes black writers. Use #EbonyPower100 #EbonyGala #EbonyChallenge @EbonyMag #EbonyStillOwes hashtags.

3. Pressure the sponsors: Tweet this: "@tanquerayusa @united @lexus @motown @nationwide do you know that @EbonyMag owes thousands to writers while you sponsor their #EbonyPower100 gala? Your #EbonyChallenge is to stand w/the writers." Make sure to add the cover too. Use #EbonyPower100 #EbonyGala #EbonyChallenge @EbonyMag #EbonyStillOwes hashtags.

That's it. Do your part. Do your part for Nekesa Moody, owed $1000 for a story she wrote, but can't use that money today to pay for daycare expenses for her toddler. Do your part for Dr. Kimberly Ellis, who is only owed $100, but she was going to use it to buy a part for her A/V presentation. And there are a bunch of stories like this. But simply do it because it's the right thing to do.

That's something the new Ebony could learn from all of those old Ebony covers.
Updated Thursday, November 29, 2018, 4:40 p.m. EST:
Richard Prince, editor and publisher of Journal-isms, broke the story Thursday that Ebony Magazine has now agreed to send out checks early to the remaining Ebony owned writers.
From Journal-isms:
Larry Goldbetter, president of the National Writers Union, said by email Thursday, "After getting slammed again on social media and the union having filed in court for enforcement, [Michael] Gibson [of Ebony's parent company] contacted us yesterday to say the Q4 checks will go out this week instead of the end of December. . . . The final group is about a dozen-15 writers for roughly $15k."
We at The Root will monitor the situation and confirm when these writers receive their checks.
Corrected Friday, January 4, 2019, 3:50 p.m. EST: This post has been updated to reflect that the settlement and the settlement's schedule of payments was not "court-ordered."