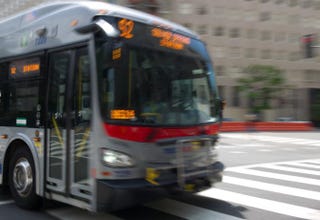 A Washington, D.C., Metrobus driver reportedly rushed to the aid of a 61-year-old visually impaired woman after seeing her being taken advantage of and robbed by a group of teen girls Monday, the transit agency said Tuesday, the Washington Post reports. 
According to the agency, the teens surrounded the woman and snatched her purse after she and the group got off a bus near L'Enfant Plaza. However, when the bus driver saw the older woman being harassed, he quickly came to her aid, recovering her purse for her.
"They struggle for a few seconds, and then the bus operator can be seen coming to the aid of the victim," Metro spokesperson Dan Stessel said. "He tries to pry the juveniles off the victim and get everyone separated. As that's happening, one of the juveniles is able to gain control of the purse and starts walking away."
Two of the teens, ages 15 and 16, were arrested shortly after by transit police near the L'Enfant Plaza Metro station and charged with robbery. Another 15-year-old girl was charged with resisting arrest and fare evasion after she allegedly jumped a fare gate and ignored an officer's warning to stop, the Post notes. 
"The fourth female was determined to be present but did not act criminally," Stessel added. "Our victim was taken to the hospital to get checked out. Injury is limited to a bruised nose, fortunately."
Read more at the Washington Post.