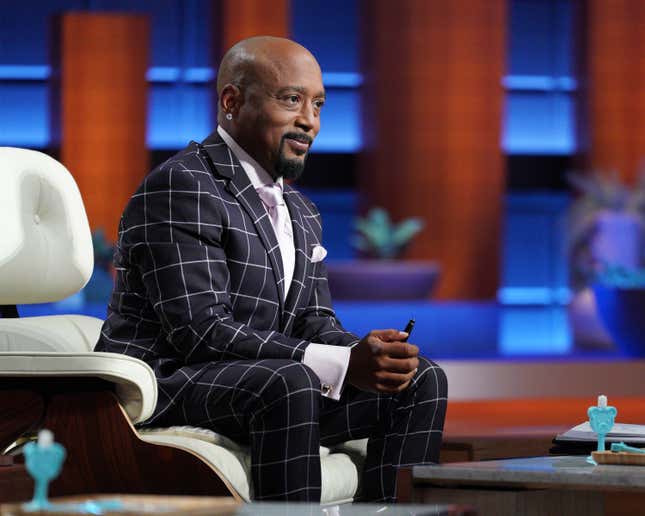 Shark Tank investor Daymond John just scored a win in his ongoing feud with a family of former contestants.
The Difference Between A Good Pitch and A Great Pitch | Securing the Bag: Part 3
Back in June, we told you about the Bakers, whose deal with John for their Bubba Q's Boneless Baby Back Ribs went south after the show. The Bakers took their beef public, issuing a series of negative social media posts about John and Rastelli Foods Group, the meat manufacturer producing their ribs. They also sat for an interview with the Los Angeles Times, where they accused John of dirty deeds, including trying to take over their business and get his hands on their profits. But a New Jersey federal court just handed down a restraining order forcing the Bakers to keep their negative comments to themselves.
According to the Los Angeles Times, the judge's order bars ex-NFL player Al "Bubba" Baker, his wife, Sabrina, and their daughter, Brittani, from publicly sharing details of their experience with John. The order also requires them to delete any "disparaging" social media posts about John or Rastelli Foods.
The Bakers were contestants on Season 5 of Shark Tank, where they secured a deal with John for their pre-cooked boneless baby back ribs. The family claims their on-air offer of $300,000 for 30 percent of the company was slashed to $100,000 for a 35 percent stake after the show.
In his ruling, US District Judge Robert Kugler said the Baker's actions were a breach of a 2019 settlement agreement's "non-disparagement clause." John's testimony said the Baker's comments cost him work, including a speaking engagement and a "major television network show."
"All the Bakers' posts are negative, disparaging, or both and certainly could impact DFV's and John's reputation, goodwill, and credibility," wrote Judge Kugler. "These posts clearly caused reputational harm that John will now have to deal with and counter."
"Today's decision against the Bakers, their company, and their false statements is a moment of vindication," John said in a statement.