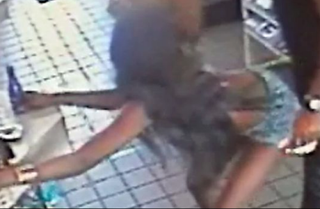 Some call it twerking; Washington, D.C., police call it sexual abuse.
One woman has been arrested and a second is being sought after both women reportedly gyrated their backsides against a man and fondled his genitalia.
According to the Huffington Post, the two African-American women were captured on video Oct. 7 around 4 p.m. inside a gas station convenience store. The gas station surveillance video shows a man talking on a cellphone when one woman, who is standing at the counter, begins twerking on the man. The man backs away from the woman, and when her friend walks over and appears to grab him, he pulls away from her.
On Tuesday, police arrested Ayanna Marie Knight, 22, of Las Vegas. She was arrested and charged with third-degree sexual abuse, according to WUSA.
Third-degree sexual abuse includes inappropriate touching and "involves actual force, threats putting the person in fear of death, bodily injury or kidnapping, or rendering the person unconscious," according to WTVR.
Police are still looking for the second woman seen in the video.
This isn't the first time twerking has led to an arrest. The Huffington Post notes that in April 2014, three women from Oregon were arrested on charges they twerked near the town courthouse, and this past April, three women were arrested in Russia, accused of twerking near a World War II memorial.