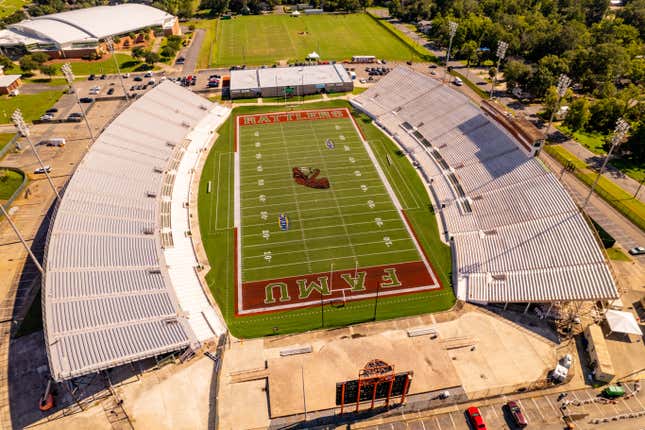 Florida A&M University has suspended all football-related activities following the release of a rap music video recorded in the university's locker room. According to The Associated Press, a few players were featured in the video with a local rap artist.

Herschel Walker Supporters Are Unfazed By His BS
This is a classic case of what Black folks recognize from their younger days: when one person gets in trouble, everybody gets in trouble - even if you ain't have nothin' to do with it. Here, a few FAMU football players got the whole team swept into a time-out after being spotted in a music video with Tallahassee rapper Real Boston Richey Friday. The video included several scenes inside the football locker room with the FAMU logo popping up everywhere in the background as well as on the university merch worn by the boys in the video.
Let me tell you… Head Football Coach Willie Simmons wasn't HAVING it. Now, the whole team is paying for it.
Read more from his statement:
Earlier today, it was brought to my attention that a rap video was shot by a prominent rapper in the football locker room of Galimore-Powell Fieldhouse without proper authorization. The video contained graphic language that is not consistent with Florida A&M's core values, principles and beliefs and an internal investigation is underway to determine who authorized the use of not only the athletic facility at Galimore-Powell, but also licensed apparel that potentially violates university branding and licensing agreements.

Although I am a proud proponent of free speech and support all forms of musical expressions, this football team (as ambassadors of Florida A&M University) has a responsibility to protect the University image.
In closing, Coach Simmons said he's "effectively suspending all football related activities until further notice." He also told AP News the team is banned from using any and all football facilities such as the weight room and field. Their first practice was scheduled for Aug. 4 and their first game, Sept. 3.
Standards of representing the university aside, Florida's courts allow rap lyrics to be used by the State to establish a motive or identity of a defendant who is charged with a crime, per a statement from the State's Attorney's Office via First Coast News. Who's to say the movement to weaponize rap lyrics against Black people wouldn't sweep in a few college athletes, even if they're just dancing in the background?