It'd be no small statement to say the travel industry has been booming the last few years, especially among black women, who are making major moves as not only tourists, but travel entrepreneurs and influencers.
Now, a group of women are blazing new trails in travel—in a puff of pink smoke. New Orleans, La.-based motorcycle club and local celebrities Caramel Curves are serving up a unique perspective of their famed city, taking both Instagram travel stars and viewers for a ride on the road less traveled in New Orleans' new IGTV travel show, Unexpected Tour Guides.
The show, which premiered on Tuesday, March 12, is a vehicle (pun intended) for the New Orleans Tourism Marketing Corporation, which has recruited this stiletto-wearing crew of badass, moniker-sporting beauties and community heroes act as unofficial city ambassadors. Members Tru, Coco, HoodPriss, Bombshell, First Lady Foxy, Karma, Sugah, Pretty Rocky, Icy Baby, Choosy, Lil Bit, Quiet Storm, Tiff, and Beauty—show off their skills, and some of the less-seen sights of NOLA.
This unconventional tourism show was created and shot with help from digital agency 360i and local production company Alibi Films. The first three episodes are already available on the Visit New Orleans IG.
G/O Media may get a commission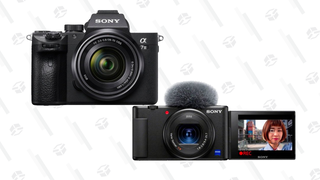 Cyber Monday Deals
Sony Camera Sale
The point? New Orleans is more than gumbo, jazz and beignets (though we love all of those things—a lot). "Unexpected Tour Guides inspires tourists to dig deeper and discover the stories, cultures, and hidden treasures of New Orleans that they never knew existed," says a statement. A few notable tour stops on the Caramel Curves' route include black-owned businesses Lil' Dizzy's Cafe, Treme's Petit Jazz Museum, Coco's Unique Nails & Hair Studio (owned by Caramel Curves' Coco, one of several small business owners in the club), and more.
"To me, New Orleans is so important because I'm born and raised here," Coco recently told ABC News. "So for me, New Orleans is everything and New Orleans is also what put Caramel Curves on the map."