It's swimsuit season, which means we're seeing a lot more skin at our local beaches and pools—and a lot more of the inherent characteristics that come with being, well, you know, human (imagine that). To be clear, among other things, I'm talking about cellulite, scars, and stretch marks—which for some of us (*raises hand*) are the most natural thing in the world, since we see them every day.

But the fashion world has historically not been so forgiving, which is why every time so much as a ripple shows up in any campaign or photograph, we're suddenly all in a tizzy over whether or not we're finally making another stride in body acceptance. And due to the growth of the body positivity movement, in recent years, retailers have begun responding in kind.
For instance, take Target, who began rolling out images of its non-manipulated models last year; or lingerie and swim retailer Aerie, which has built much of its brand identity on the body positivity movement by promoting its non-Photoshopped images. And then there's supermodel and plus phenom Ashley Graham's latest Swimsuit for All campaign, which made waves when she opted to go entirely un-retouched.
So when fast-fashion retailer Boohoo—known for its highly made-up, Kardashian-level beauty aesthetic—seemingly opted not to retouch the stretch marks on one of its models, followers of the brand thought the body revolution had made yet another breakthrough.
G/O Media may get a commission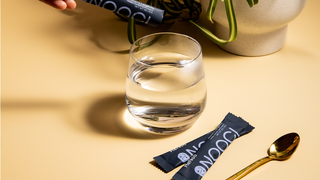 "Boohoo Didn't Retouch a Model's Stretch Marks in This Photo, and the Internet Is Obsessed," proclaimed Allure, citing a Facebook post lauding the brand for proudly showcasing a model with highly visible stretch marks across her hips and ass.
While Boohoo neither offered confirmation nor denial, others were enthusiastic, thanking the site for promoting body acceptance and helping them heal their own hangups about their stretch marks. (Note: the photo below is not the photo referenced above.)
But, plot twist: our own search of the site revealed that while the model in question likely has "flaws" (as we all do), none were visible in Boohoo's prototypically polished product shot, meaning that ironically, she likely was Photoshopped to begin with, then Photoshopped again to appear to have stretch marks; presumably to push someone else's agenda.
And this is where the body positivity movement gets sticky, because while there is a very real #LoveYourLines movement—and hot-bodied personalities from Teyana Taylor to Chrissy Teigen have also been real about their own experiences with the very normal phenomenon of stretch marks, cellulite, etc.—any movement towards the acceptance of "real" bodies needs to be grounded in similar authenticity, not self-serving attempts to push retailers to follow suit.
Because the truth is, something as commonplace as stretch marks—which affect women of all sizes—shouldn't require manipulation of any kind, and the most aware retailers realize that. A look at Asos's un-retouched current swimwear collection shows women of all sizes sporting their stripes with no commentary, shame or fanfare whatsoever; which, in our opinion, is really what the movement should be aiming for.
Here at The Glow Up we love to celebrate the #Fitspo moments of our resident faves (because self care is something to celebrate). But we're also fully aware that body shaming stops when we stop making a big deal about what bodies do or don't look like, and focus on making space for every type of body to be considered acceptable—and no one should have to cross the line to do that.