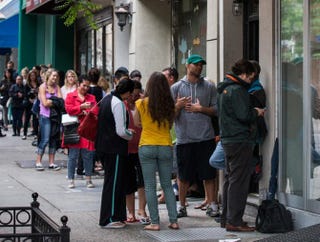 As the holiday season looms large and lines form outside of stores' doors for must-have items, New Yorker Robert Samuel has made a business of waiting.
The 38-year-old Chelsea resident will stand in line for the everything from the latest iPhone or a cronut—a donut-croissant hybrid that's New York's latest baking sensation—for those who must have but can't wait, the New York Post reports.
"People want these things like it's the end of the world," Samuel told the Post.
For $60 on weekdays, Samuel hits Dominique Ansel Bakery's line at 5 a.m. with his sleeping bag in tow—the bakery doesn't open until 8 a.m. For larger orders, Samuel outsources to friends who hold down spots in lawn chairs, since the bakery has a two-cronut limit per customer. Once the bakery opens, Samuel picks up two and delivers them to clients.
One cronut costs $5. A week's worth of cronut-waiting can bring Samuel as much as $240 for eight, the New York Post reports.
"When I show up to their offices with a sleeping bag in one hand and the cronuts in another, they know they're getting their money's worth."
Samuel started SOLD Inc.—Same Old Lines Dudes—last fall after losing his job as an AT&T salesman. He posted a Craiglist ad letting those who had to have the new iPhone 5 know that he was willing to brave the lines for $100.
That's when it hit. Line-waiting could be a part-time gig. According the New York Post, theater–goers have hired him to wait in line for big-ticket shows, and others have used his services to hold their place in concert lines.
Read more at New York Post.