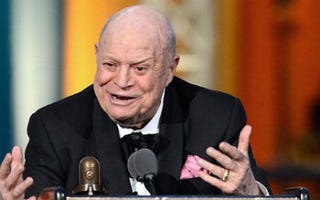 A remark Don Rickles made about President Obama has been edited out of an American Film Institute tribute to Shirley MacLaine, according to the Hollywood Reporter. He let the piece of "comedy" rip after firing verbal jabs at MacLaine and several guests, including Jack Nicholson and Warren Beatty.
So what is the hilarious punch line about the commander in chief that those who tune in to the program will miss out on?
Here it is: "President Obama is a personal friend of mine. He was over to the house yesterday, but the mop broke."
And that's funny because … ? Someone, help fill in the blank. We'd love to hear any rationale that's not just flat out, old-fashioned racist.
Anyway, when the Hollywood Reporter asked TV Land about Rickles' joke about the president, a spokesman for the cable channel replied, "It's not going to make it on the air. That's all I'll say about it."
Rickles should go sit down somewhere. And that's all we'll say about it.
Read more at ABC News.