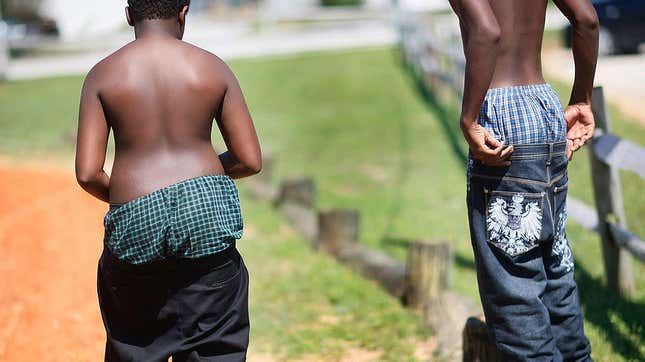 Terry Crews Talks AGT, Hidden Talents, & Falling For A White Chick
In February, 31-year-old Anthony Childs was fatally shot in Shreveport, La., by police during a chase that began after Childs was stopped because he was wearing sagging pants.
Since that tragedy, councilwoman LeVette Fuller has wanted to end a law passed in 2007 that prohibits wearing pants below the waist in the majority-black community. On Friday, according to Shreveport CBS affiliate KSLA-TV, the Shreveport City Council began looking at a proposal to repeal the law, noting that since its inception, more than 700 violations have led to the imposition of fines ranging from $100 to $250 and having to do community service. Police have even arrested individuals for nothing more than wearing baggy jeans, according to Vice, even though the law states that wearing pants below the waist is not in itself a reason to take anyone into custody.
According to the Shreveport Times, during a confrontation, Childs fled police and Officer Traveion Brooks shot at him eight times during the ensuing chase, hitting him three times. The Caddo Parish coroner, however, claimed that Childs died from one self-inflicted gunshot wound, and therefore declared his death a suicide. Brooks also says Childs shot himself, though some wonder whether Childs' death was properly investigated. Along with the controversy of Childs' death, the "saggy pants" law itself is contentious.
"Being able to say out loud that someone was stopped or detained because legally they were not dressed appropriately is an issue," Fuller said, KSLA reports. "We shouldn't give police the ability to look at a human body the same way you look at a broken tail light."
Shreveport isn't the only predominantly black community to pass a law that many feel amounts to policing black expression, Vice notes. Pine Lawn, Mo., for example, enacted a similar law the same year as Shreveport. Many other cities have taken up the issue of sagging pants and had to consider whether banning them is about indecency or restricting personal expression.
"We don't legislate people leaving the beach, lake or pool in a bikini, only this particular form of clothing," Fuller said, according to KSLA. "We're not legislating skinheads or bikers."
Correction: Sept. 16, 2019, 4:30 p.m. ET: This story has been edited to remove unattributed text and add fuller sourcing.