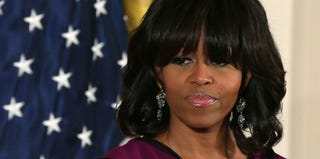 (The Root) — Recently I had the pleasure of moderating a conversation hosted by New York Women in Film and Television and the Fox Broadcasting Co. on the issue of diversity in Hollywood, particularly in terms of casting. The panel included some of the industry's leaders on the subject, among them film executive Zola Mashariki, who has worked on films such as The Best Exotic Marigold Hotel and The Antwone Fisher Story; Dante Di Loreto, president of the production company responsible for Glee; Shana Waterman, a programming executive who has overseen The Mindy Project and Family Guy; and Seth Yanklewitz, who has cast major projects such as The Hangover and the hit series New Girl. The industry veterans spoke candidly of the challenges that still exist in Hollywood regarding making the entire industry more diverse, challenges they have all confronted through their efforts to make diversity a priority in their projects.
While the entire conversation was enlightening and at times inspiring, one moment was particularly memorable. A black woman with a dark complexion spoke of how rare it is to see someone who looks like her on-screen. Acknowledging that there is still room for improvement, the executives nevertheless pointed to the successes of various darker-skinned black actresses, from Gabourey Sidibe to rising star Emayatzy Corinealdi.
But despite these successes, one inescapable fact remains: Rarely is an actress cast as a romantic interest who has a darker complexion than her leading man. Think of any classic film with a black leading man — Boomerang, The Best Man, Love Jones, Brown Sugar — or even nonclassic films, such as Hitch. There appears to be a formula: Black male paired with lighter-skinned black female or nonblack female.
To be clear, this is not a criticism of these actors or actresses. It is a criticism of one of the world's most influential industries for perpetually reinforcing a narrow definition of what constitutes beauty. But it appears that this definition may finally be changing in Hollywood, thanks to a certain first lady. 
I have previously written about the issue of colorism in politics and how candidates who are fairer-skinned tend to fare better (no pun intended) with white voters. A topic that I also explored with experts is whether Michelle Obama's darker skin color helped authenticate her half-white husband with black voters.
But another question that now bears asking is whether or not their union — the world's most powerful and influential black man, paired with a woman who is darker than he is — has helped change how beauty and attractiveness are defined in Hollywood and beyond. There are already signs that the answer is a resounding yes.
Actress and commentator Nancy Giles tackled the topic of the Obamas' impact on redefining America's beauty standards in her one-woman show, Further Adventures of the Accidental Pundette. But perhaps the greatest testament to the Obamas' impact is that the hottest on-screen couple at the moment is President Fitzgerald Grant and Olivia Pope, of ABC's Scandal.
In this case the actress is darker than her leading man — much so. Kerry Washington portrays Pope, while white actor Tony Goldwyn portrays President Grant. This pairing as the foundation of a major television show, on a major television network, would likely have not been perceived as realistic just a few years ago. But now that the nation's definitions of femininity and womanhood are embodied by a darker-skinned first lady, the pairing no longer seems so surprising. Other on-screen pairings featuring a darker leading lady that have followed the emergence of the Obamas on the national stage are Corinealdi and Omari Hardwick in the film Middle of Nowhere.
By starring in America's most enviable black love story, the Obamas have forever changed our image of what romantic leading men and leading ladies look like. Here's hoping that Hollywood continues following their lead. 
Keli Goff is The Root's special correspondent. Follow her on Twitter.
Keli Goff is The Root's special correspondent. Follow her on Twitter.