Over the last week, while protests were being held in Ferguson, Mo., the Portland, Ore., police have been quietly dealing with their own law-enforcement issues. According to the Portland Mercury, several police officers are now under fire for their activities on Facebook. Officers Rich Storm, Rob Blanck and Kris Barber changed their profile photos to Portland police badges with a rubber bracelet engraved with "I am Darren Wilson."
Soon after the discovery of the profile photos, Chief Mike Reese of the Portland Police Department issued a statement saying that he ordered the officers to change their "I am Darren Wilson" Facebook profile pictures. Reese said he also asked Portland's professional standards unit to review the matter. According to policy, since the officers used their badges, Reese said, it trumped the officers' right to free speech during their time off the job.
Over the weekend, another Portland police officer became the subject of fodder after his photo went viral. The Internet was filled with "awws" after a photographer photographed Sgt. Bret Barnum hugging 12-year-old Devonte Hart during a Ferguson demonstration in Portland on Nov. 25, 2014. It was called the hug that "broke the Internet." Many people felt that the photo was a welcome relief from the police violence that has saturated the news recently.
But others were a bit more skeptical about the photo, as well as of the cop. And needless to say, they had every right to be. 
https://twitter.com/merstew/status/539442699087413248
In an ironic twist of events, Barnum was one of 31 people on Facebook who "liked" Officer Storm's profile photo of the "I am Darren Wilson" bracelet.
G/O Media may get a commission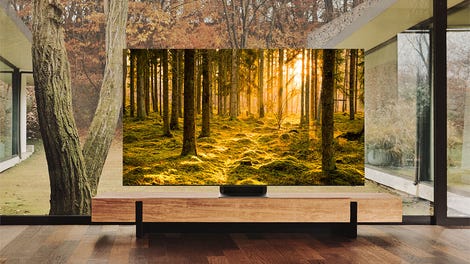 Up to 40% off
Samsung Smart TVs
The screenshot pictured above is reported to have come from the Portland Mercury comment section and was made by someone who says he saw Storm's Facebook photo before he subsequently deleted his account.
Even after these cops were found to be Wilson supporters, the PPD still felt the need to place them on protest duty Nov. 25.
Portland's Mayor Charlie Hales issued a statement saying,"Their actions do a disservice to the hundreds of Portland police officers who are building relationships and partnerships with the community every day."
As for Barnum, who was able to put on a happy face and hug a little black kid, he's been making the media rounds since the photo has gone viral.  In an interview with CNN, Barnum ironically spoke about the need for police departments and African-American communities to build relationships, and he spoke negatively about the protesters in Ferguson.
"There are thousands of kids in Devonte's situation," Barnum said. "There are thousands of police officers that do what I did the other day. … I would say that the silent majority of the community believe in the good work that the police officers do.
"I just hope that those folks who are creating the chaos and doing the damage to their communities realize that they're setting everything back. All the hard work that police officers and community members are doing, trying to come together and build those relationships—it's the silent, smaller entity that is really detracting from the larger picture and the change that folks want," Barnum continued.
You have to wonder if this is just an act for Barnum and a way to gain notoriety. Because liking a profile photo that states "I am Darren Wilson" seems to contradict his views on police officers and their relationship building with black people. Especially when you choose also to side with a police officer who killed a black man and those who support that officer.
As one commenter stated on Portland Mercury, "At this point I'm wondering what should cause more outrage: that they [the cops] are obviously racist, or that they are stupid enough to have this so publicly available. I want the police officers protecting my community to be smart, dammit, not idiots who don't understand this newfangled Facebook machine and all the YouTubes and Twitters."