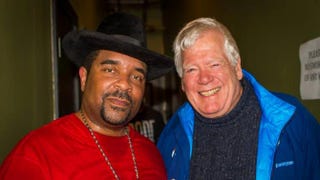 Earlier this month, 76-year-old Jim McDermott, one of the older members of the House of Representatives, attended (and by reports, enjoyed) his first Sir Mix-a-Lot concert, Roll Call reports.
The Democrat, who represents Washington state, was first introduced to the rapper, a Seattle native, through late-night comedian Stephen Colbert.
"Congressman, do you like big butts?" Colbert jokingly asked in the September interview. Needless to say, McDermott was a bit confused.
However, he later became curious and went to a Nov. 2 concert to see what he was missing out on.
"It was interesting. But it was a bit loud for his tastes," McDermott's spokesperson told Roll Call. According to the aide, the congressman thought that Mix-a-Lot was "very nice."
Still though, it wasn't enough to convert the jazz and folk rock fan into a full-fledged rap aficionado. According to Roll Call, the aide hinted that the congressman would be sticking to his personal favorites like Willie Nelson and Johnny Cash.
Read more at Roll Call.