The photo optics will be rich and the weekend will be full of symbolism. Eyes will be on Ferguson, Mo., when a 10-strong delegation of Congressional Black Caucus members stops through the troubled St. Louis suburb this weekend in a bid to spotlight growing tensions and a bubbling social-justice movement that has been going viral by the minute.
But as caucus members prepare for a day of Martin Luther King Jr. birthday commemorations and community conversations at Ferguson's Wellspring Church on Sunday, questions remain about the group's intentions, next-step plans and the direction of bills recently introduced in a hostile Republican-led Congress.
Still, controversy and the expected clash of expectations is something the CBC has grown used to since its inception four decades ago. Members are still excited by the prospect of surveying Ferguson's landscape and plugging into the community's pulse during their short King weekend visit. It's not the first time a caucus member has set foot in Ferguson since the tragic death of Michael Brown. But it is the first time since the shooting that there have been this many at once.    
For the caucus, the timing presents multiple opportunities—and the potential for multiple missteps depending on how relations with protesters are managed. It's the top of a new year and a new Congress that has found not only a slightly larger CBC, now at 46 members, but also a much more challenging congressional environment with more Republicans (including two additional black GOPers from Texas and Utah). Hence, the caucus hungers for relevancy. Perhaps Ferguson offers this: a moment to show they're on it.
Yet there's also an urgent need for a rebooted conversation with impatient protesters fed up with what's perceived as a slow-moving and corrupt political process.
G/O Media may get a commission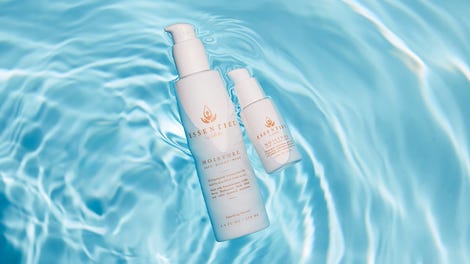 20% off
Essentiel by Adele
In seeing this, newly minted caucus chairman Rep. G.K. Butterfield (D-N.C.) is both realistic and optimistic. "We have many reasons for wanting to go to Ferguson," Butterfield acknowledges during a phone conversation with The Root. "We want to make a positive statement and show the citizens there and elsewhere that we're paying attention. So going back during the Martin Luther King weekend and showing the relationship between Dr. King and these struggles today is significant."
But if protesters are looking for a chance to huddle with caucus members on national strategy this weekend, it won't be the place or time. Butterfield is quick to emphasize that not much else is happening beyond worship at Wellspring.
"I recognize some degree of disconnect between the millennial and legacy communities," Butterfield says. "We have to demonstrate we are listening as legislators to their concerns and that we're going to use our collective power to speak to the nation."
Both camps want the same thing. Yet in numerous on- and off-the-record conversations with The Root, there is a sense that they're talking past one another.
Many protest organizers and Ferguson residents who spoke to The Root were not even aware of the CBC's trip, with some suspicious of the caucus' motives.
"I'm not necessarily excited about it," Jasiri X, a national movement organizer, told The Root. "We're beyond the point of symbolism having any real impact here. Six months later and now you make a trip?
"It's kind of disrespectful," he continued. "Are you going down there to take an Instagram in front of where Michael Brown died?"
Still, Rep. Karen Bass (D-Calif.) is hopeful. "I think it's really important that we demonstrate our solidarity," said Bass, a former community organizer. "It's critical to hear from folks how we can help, especially within the context of the current political climate." 
That said, it's not all about just policing issues. "We've got to talk about the disenfranchisement of people in Ferguson and all over the country," Bass added. "There's a lack of representation. There are serious structural problems and problems in how the legal system is organized there. These structures reinforce discrimination."
Interestingly enough, both Ferguson Mayor James Knowles and Police Chief Thomas Jackson—who are both white—will be out of town when black congressional members arrive Sunday. Both were invited to the Sunday service but will, instead, be at an out-of-state conference that a Ferguson city representative would not disclose to The Root.
The fact remains that city officials like Knowles and Jackson who badly managed the Brown tragedy are still firmly in place. A highly placed source speaking off the record to The Root confirmed that plans for a more immediate recall election of the mayor and the nearly all-white City Council—which represents a city that is 70 percent black—were actively thwarted by a political deal cut "with white Democrats in Ferguson and in St. Louis County."
The source would not name the persons involved but did tell The Root that initial moves to submit a petition of 900 Ferguson residents to the Missouri state auditor were scrapped "in an attempt to keep some of the same people in power."
Caucus members headed to Ferguson, including Butterfield, were very reluctant to offer any thoughts on local political matters there. Rep. Lacy Clay (D-Mo.), the congressman who represents the district where Ferguson is located, was unavailable for comment after repeated attempts by The Root to discuss the CBC trip and the political situation there. 
However, a source close to Clay was adamant that the congressman has had a decent relationship with protesters and had met with them on more than several occasions. "He's certainly been connected with the younger folk," the source said.
In the meantime, advocates such as St. Louis Alderman Antonio French told The Root that preparations are under way to encourage eligible Ferguson residents to register by next week as candidates for upcoming elections in April. "There's been a frustration on the part of many regarding inaction from the elected leadership in Ferguson," French told The Root. "So the filing deadline for candidates is next week, and we are hoping to see a complete change in April." 
"If they are coming to be a voice among the many voices that have come, I'm not sure how effective that could be," argued Missouri state Sen. Maria Chappelle-Nadal. "There has to be a level of translation between the people who are serving in office and the younger people. If it's just another sermon, like you're preaching to the choir, you'll probably see a lot of people's eyes rolling and falling to sleep. If it's something encouraging and it teaches these young people how to not only stay involved but to engage in the political process, I think all ears will be open."
Rep. Emanuel Cleaver (D-Mo.), another CBC member who will be in Ferguson on Sunday, draws parallels between today's tensions and "the emergence of groups like the Black Panther Party and SNCC [Student Nonviolent Coordinating Committee] back then.
"These were the young upstarts who disagreed with Dr. King or people they considered the old guard," added Cleaver. "This is nothing new. Jesus was a young upstart from the backward town of Nazareth who came in with a new agenda. It's as old as humankind itself. If these young people are not saying the things they're saying, I'd be sorely disappointed."
Charles D. Ellison is a veteran political strategist and a contributing editor at The Root. He is also Washington correspondent for the Philadelphia Tribune, a frequent contributor to The Hill, the weekly Washington insider for WDAS-FM in Philadelphia and host of The Ellison Report, a weekly public-affairs magazine broadcast and podcast on WEAA 88.9 FM Baltimore. Follow him on Twitter.