I mainly listen to/watch Power 105.1's The Breakfast Club because I wanna grow up to be Charlamagne Tha God and Angela Yee is my wife in my head. But Ebro Darden won a permanent place in my heart when he invited several members of Complex Music on his Hot 97 Ebro in the Morning show and took them to task for their Best Albums of 2015 list.
Darden and co-host Paul Rosenberg essentially asked the staff what all of us over the age of 30 were thinking: How in the blue-balled motherfuck did Complex come up with and publish this list with a straight face? While they didn't seem to pull many punches, Darden and Rosenberg never breached the topic of what I believe is the big, Faustian elephant in the room: at least one person at Complex Media has to be flat-out on the take.
It's no secret that it's increasingly difficult for any music publication to chug along in a zeitgeist that has forced beloved hip-hop mags like XXL and VIBE to either dial back or completely do away with a print version (y'all remember Blaze?), but Complex has held it down for a while now with a steady print and web presence. You won't find Playboy or New Yorker-caliber writing and journalism in Complex, but I respect their pop culture format that doesn't make hip-hop exclusive and I really dig the website's parallax scrolling techniques.
But things went pear-shaped on Complex's road to be competitive in the web traffic market: they got basic. "Miley Cyrus and Liam Hemsworth are Reportedly Engaged Again" is not the shit I go to their site for, but I'm not really mad at that…get your money, boo-boo. It's their best-of lists that make no goddamn sense and deserve every bit of scrutiny they get.
See, the lists legitimately contain some of 2015's best LPs and songs. But they're countdown lists, and the order in which they're placed is utterly fatuous. Calling To Pimp a Butterfly the best album of the year is prosaic at this point, and my feelings on that have been echoed here before. But Rosenberg was on the money when he acknowledged that Future's DS2, the number-two on the list, a profound drop-off from TPAB.
G/O Media may get a commission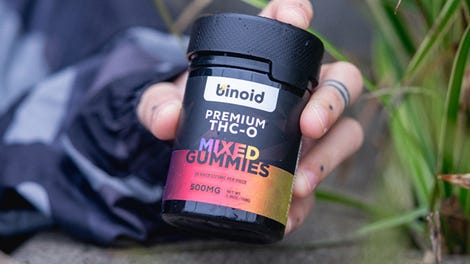 25% Off + Free Shipping
Binoid THC-O Gummies
This is because Rosenberg is 36 years old, and no self-respecting tricenarian who vividly remembers 80s and 90s hip-hop would ever give that marble-and-baby-dick-gargling fuck Future so much love for making music that's only relevant in a strip club or a sound system on which treble is pointless.
And then there's number-three on the list, Rae Sremmurd's Sremmlife. How on earth does a basic-nigga album like that squeak ahead of Tetsuo & Youth, Summertime '06 or Compton (or even Tame Impala's Currents)? When Darden said that Rae Stremmurd delivered nary a meaningful bar in the entirety of the album, Complex Music Editor Christine Werthman asked if rapping something meaningful should be a "defining quality" for a good hip-hop album.
Yes, goddammit, yes. Beats and rhymes. Not all of my favorite rap albums are the lyrical equivalent of Chaucer's The Canterbury Tales, but these kids in Rae Sremmurd have offered nothing whatsoever meaningful to the music soundscape other than an album full of somewhat enjoyable trap beats. To put it over 47 of the 50 best albums of the year is like saying "fuck The Revenant, let's throw Hot Tub Time Machine 2 on top that bitch!"
And then there's The Best Songs of 2015 piece: How does one in good conscience place Lupe Fiasco's "Mural" (possibly my favorite track of 2015) at number 25 and Kendrick Lamar's "The Blacker The Berry" at 33, but any Future song ever in the top 10? Furthermore, Drake's Meek Mill diss "Back to Back" is not a very good track despite playing a pivotal role in the most interesting thing to happen to hip-hop in years, which says a lot about the genre considering "Back to Back" is light-in-the-ass diss music with a boring beat and a couple of cute bars that were the most quotable aspect of a one-sided beef. "Ether" is good. "The Bitch in Yoo" is good. "Back to Back" isn't even that high up in Drake's catalog.
Complex kept the fuckery chugging right along with The Best Rapper Alive, Every Year, Since 1979 piece, which comes out the gate with a flawed premise:  "Anyone can become the Best Rapper Alive. Some came out the gate with next-level rhymes that had everyone running back to the lab; for others it was a culmination of gifts that coalesced for one great year…A debate that considers both the short-term and long-term implications of an artist's impact."
Naw, son. There's a difference between Best Rapper Alive and Most Influential Rapper Right Now. Being dubbed the best rapper drawing breath while there are many, many better living rappers is logically incongruent. I essentially dismissed the list altogether (before I decided to write this) when I looked at the year 2014 and saw Nicki Minaj.
I will expend more ink on Nicki here at a later time, but while 2014 was not a stellar year for hip-hop, it wasn't bad enough to bestow the Best Rapper Alive title upon Nicki while Nas and Black Thought are still breathing and bodying verses (the latter had the best of 2014). T.I. may have been the hottest rapper in 2004, but he simply lacks the bars and lyrical dexterity to take up space on that list with Eminem – arguably the best technical rapper ever, and still alive as of press time.
I would bet money that there's a disconnect between what the staff and writers are saying is hot, and what they actually believe is hot, and within that disconnect lies the payola. Head-White-Boy-In-Charge Noah Callahan-Bever is one of my favorite hip-hop journalists ever, and I've seen far too many knowledgeable articles on the culture coming from Complex to believe that there are nothing but a bunch of poop-butt Millennials whose first rap album was The Marshall Mathers LP writing everything.
And then there's Executive Editor Damien Scott, who fixed his mouth on Ebro in the Morning in defense of Sremmlife's placement: "Both of them rap with a dexterity that a lot of rappers who are put in their lane just can't do," he said. Scott's LinkedIn page has me placing his age in the early 30s, which is far too old for a man running a "credible" music publication to give me the equivalent of geological advice from B.O.B.
If they're not being paid off, the other options aren't great: they're compromising their values to pander to a mainstream audience, or they actually believe that "Hotline Bling" is the year's best song.
Speaking of which, the icing on top of the Complex hyphy cake is its shameless fellating of Drake. That dude busts a nut sideways in the morning, and it's on their website. Justin Charity, an otherwise solid young writer, actually put pen to paper to come up with Drake is, Indisputably, a Hip-Hop Legend. I won't go into the myriad reasons why Drizzy hasn't earned legendary status or what I think "legend" even means, but I know what hip-hop legends look like, and they aren't singing-ass Canuck niggas.

you goddamn right that's what happens, it's called magic https://t.co/fBxacsYSvj

— JUSTIN CHARITY (@BrotherNumpsa) October 24, 2015
Once again, 2015 was stuffed to the gills with great music across many genres, so it makes me weep for music journalism when a publication I once attempted to write for treats hip-hop with the same amount of reverence as mainstream entertainment rags with nary a hip-hop fan on staff.
Let's sit shiva for Complex, shall we?