I have written ad nauseam about former San Francisco 49ers quarterback Colin Kaepernick's glorious afro, which rivals only Angela Davis for blackest and most defiant afro in American history. (Yes, you can debate me in the comments). I have also noted the historic and healing properties of Kaepernick's afro, which has been know to cure blacks from "the sugars" and "the salts."

So it only makes sense that Kaepernick, the best civilian quarterback not on an NFL team, would file for a trademark of a black-and-white image of his face and majestic mane.
According to ESPN, Kaepernick's company, Ink Flash, which filed for the trademark Friday but it showed up on the U.S. Patent and Trademark Office website on Wednesday, "says the intent is to use the image on everything from shampoo and hairspray to jewelry and lampshades."
And before y'all start blabbing about Kaepernick monetizing the movement, what the fuck else is he supposed to do? It's not like he can go work at Subway. I mean, he totally can and there's nothing wrong with that, except the fact that their subs are trash. (You can debate me about this in the comments as well).
The bigger point is that the NFL is stopping the man's bag by whiteballing him for kneeling during the national anthem to highlight injustice in the black community.
G/O Media may get a commission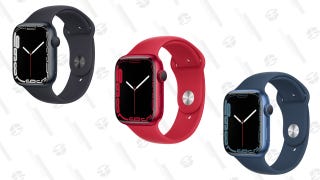 Up To $45 Off
Apple Watch Series 7
More importantly, the image may also be used to promote "classes, workshops, seminars and camps in the field of self empowerment and awareness to properly interact with law enforcement," as well as in association with "production of television shows and films."
ESPN reached out to Kaepernick's camp but did not hear back.
Everything the man touches turns to money. He sold #ImwithKap jerseys on his own website, and they sold out. Hell, Nike announced they were making him the face of the 30th anniversary "Just Do It" campaign - and Nike's stock rose. Why not monetize his face and afro (which, apparently can cure heart disease) if they aren't going to let him play?