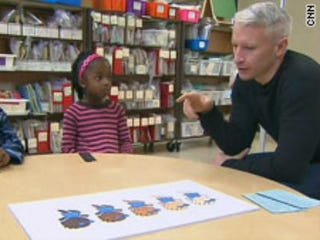 Man admits to removing evidence from Houston's hotel room? There are reports of a source who claims that he wiped the Beverly Hilton Hotel room clean of any evidence that would lead to suspicion of illegal activity, according to Celebuzz.
Rep. Charles Rangel to pay fine over rent-law misuse: He and his campaign have agreed to pay $23,000 stemming from his use of a rent-stabilized apartment in New York City as a campaign office.
CNN special to examine children and race: Anderson Cooper's AC360 teamed up with child psychologist Melanie Killen to explore how children perceive "interracial contact in their daily lives." Cooper said he wanted the study to examine how early children begin to form attitudes and opinions about the issue. Their findings will air next week.
Naomi Campbell named as homewrecker in divorce suit: Her boyfriend, Russian billionaire Vladimir Doronin, finally appears on track toward getting a divorce from his estranged wife of 24 years. But according to the New York Post, Ekaterina Doronin plans to cite Campbell as the reason for the demise of their marriage.