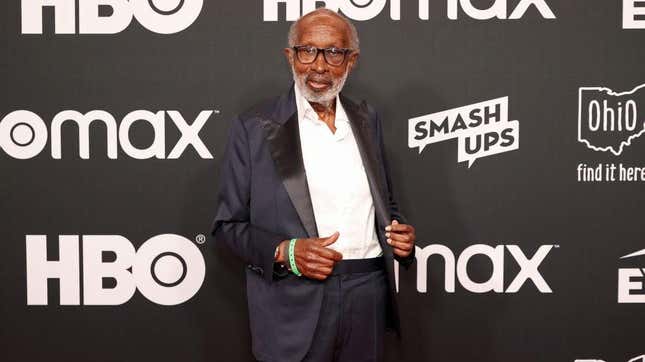 We've lost another pioneer and trailblazer in the Black community. Accomplished businessman, music executive, and film producer Clarence Avant died on Sunday at the age of 92.
Courtney B. Vance in Heist 88 Is Our Black TV Pick of the Week
In a statement from his children, Nicole and Alexander, and son-in-law, Ted Sarandos, they shared, "It is with a heavy heart that the Avant/Sarandos family announce the passing of Clarence Alexander Avant."
They continued, "Through his revolutionary business leadership, Clarence became affectionately known as 'the Black Godfather' in the worlds of music, entertainment, politics, and sports. Clarence leaves behind a loving family and a sea of friends and associates that have changed the world and will continue to change the world for generations to come. The joy of his legacy eases the sorrow of our loss. Clarence passed away gently at home in Los Angeles on Sunday, August 13, 2023."

No cause of death has been shared with the public.
Although Avant had the unofficial title of "Black Godfather" he won't be remembered as someone who helped people through fear or violence (like the character from the film). Avant was a man who was extremely influential in helping Black entertainers get opportunities in the film and music industries.

He launched multiple record labels, including Venture Records Inc. and Sussex Records Inc., which helped launch the careers of Jimmy Jam and Terry Lewis, Sixto Rodriquez, and Bill Withers. He also became the first African-American board member at PolyGram Records, which has since been folded into Universal Music Group. In 1993, he was named the chairman of Motown Records.

Along with his influence in the music industry, Avant also had a close relationship with many legendary athletes such as boxing legend Muhammad Ali, NFL Hall of Famer Jim Bown, and former MLB homerun leader Hank Aaron.
Avant's career accomplishments and influences were honored in the 2019 Netflix documentary, The Black Godfather, which charted the rise of Avant as a trailblazer in the entertainment industry. Hank Aaron even went as far as to say, "Without Clarence Avant, there is no Hank Aaron."
His memory and impact will always be remembered by those he positively affected. He won't be forgotten.