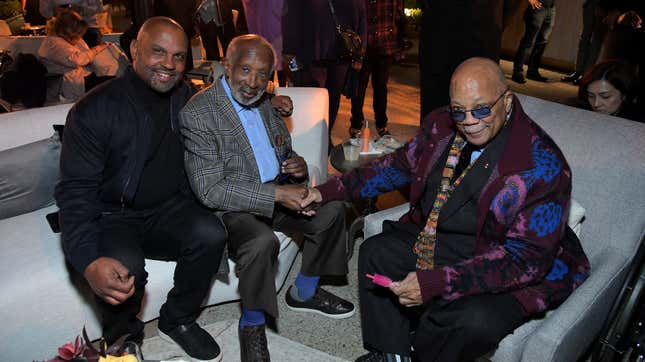 Life begins with a number and ends with a number.
It's a phrase often repeated by music executive Clarence Avant, almost like a mantra. And it couldn't be more true, not only in Avant's industry but in his personal life as well. When it comes to the number of lives Avant has touched throughout the years, that "number" is infinite.
Everyone knows the famous faces of pop culture, but what about the common denominator of those greats? In Netflix's The Black Godfather, we get an intimate glimpse into just that.
Netflix's press release breaks it down:
The Black Godfather charts the exceptional and unlikely rise of Avant, a music executive whose trailblazing behind-the-scenes accomplishments impacted the legacies of icons such as as Bill Withers, Quincy Jones, Muhammad Ali, Hank Aaron, and Presidents Bill Clinton and Barack Obama.


Driven by a sense of equality, loyalty, and justice, Avant left the Jim Crow south behind to emerge as a powerhouse negotiator at a time when deep-seated racism penetrated every corner of America. Avant defied notions of what a black executive could do, redefining the industry for entertainers and executives of color, and leaving a legacy of altruism for others to emulate.

Directed by Academy Award nominee Reginald Hudlin and featuring interviews with Snoop Dogg, P. Diddy, Lionel Richie, Suzanne de Passe, David Geffen, Jerry Moss, Cicely Tyson, Jimmy Jam and Terry Lewis, and Jamie Foxx, among others, The Black Godfather pulls the curtain back on the maestro himself, projecting a spotlight on the man who's spent his entire career ensuring that it shined on others.
I was invited by Netflix to attend the premiere on Monday, held at the Paramount Theatre, and it was a priceless experience. Hudlin masterfully showcases Avant's Forrest Gump-ian lifestyle, showcasing the 88-year-old innovator as the core and glue of our entire culture as it pertains to music, film, sports, and politics.
Hailing from Greensboro, N.C., Avant's education didn't extend beyond 9th grade, but he had something that couldn't be taught in the formal education system. And even if it could, it wouldn't have been taught to a black man in the south, especially not during that time period. Avant had spunk.
G/O Media may get a commission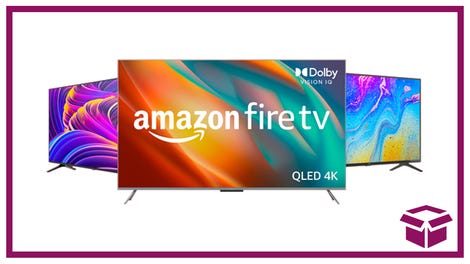 Ooh. stunning.
New Amazon Fire TVs
See: the story when he marched up to Coca-Cola headquarters and told executives to invest in black consumers with the unforgettable line, "Niggas drink a lot of Coke." Or the way he managed to mediate a contentious conflict of interest between CBS and Universal so that the E.T. the Extra-Terrestrial audiobook, narrated by Michael Jackson, could happen (this was the point at which my boy Darnell leaned over to me and dubbed him, "The black Mister Rogers.")
"You're either [going to] become a member of the golf club or you're the caddy—and I'm not the goddamn caddy," Avant quipped to a sea of chuckles in the audience.
Those familiar with the phrase "six degrees of separation" will immediately attribute it to Avant as a variety of celebrities flicker across the screen with stories about his tough-as-nails personality and generous pay-it-forward mentality. If Avant saw potential in you—particularly as a black person—best believe he would drop nuggets for your benefit.
For example, Jimmy Jam's and Terry Lewis' story on how they cut Janet Jackson's Control record on a deal with a cost far surpassing what their agent originally asked for. Simply put, Avant had their back. And everyone who ever crossed paths with him, no matter their background or working industry, had that type of story in common. Whether it was former president Barack Obama, acclaimed singer Bill Withers, legendary sports history maker Hank Aaron, or his friend-in-banter, Quincy Jones, Avant was "that" person for them. He ultimately changed their lives and their career simply by existing.
Think about that: all of those people significantly affected by this one man. Fucking wow. That was certainly my sentiment at the screening's after party where I watched in awe as I saw folks such as Jamie Foxx, Snoop Dogg, Leonardo DiCaprio, Babyface, Aaron, Jones, and more commune to support and love up on this man. It was beautiful and I will never forget that feeling.
As you watch precious footage of Avant riding in the backseat of a car on his way to be honored with his long overdue Hollywood Walk of Fame Star (which he received in 2016), you can't help but reflect on the many years of his life right along with him and smile, inspired.
"I don't have problems; I have friends," Avant muses. After watching this documentary, you'll know—we would all be so lucky to have a friend like Clarence Avant.
The Black Godfather is now available on Netflix.