The city of Flint has notified the state of Michigan that it may sue over what it is calling the "grossly negligent oversight" that led to the lead contamination of the city's drinking water, the Detroit Free Press reports. 
Beyoncé's Feminist Anthem "Run the World (Girls)" A Decade Later
According to the report, a spokesman for Michigan Gov. Rick Snyder said that the filing of the notice of intent to sue the state could complicate efforts to fix Flint's issues. Michigan House Speaker Kevin Cotter blasted the move as "a reckless lawsuit" that "could throw the state budget into disarray and undermine everything we've done for the city."
However, Flint City Attorney Stacy Erwin Oakes signaled that the city would like to avoid a lawsuit and work with the state, but also said that the move was necessary to protect taxpayers in the struggling city. 
In the notice of intent to sue, Flint Mayor Karen Weaver emphasized that the city switched its drinking water source to the Flint River in April 2014 after relying on authorizations and directions from the state Department of Environmental Quality. It was only later that the city learned that the direction from the department was "contrary to applicable EPA laws and regulations."
G/O Media may get a commission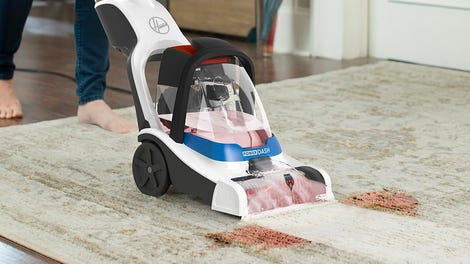 26% Off
Hoover PowerDash Pet Compact Carpet Cleaner
"As a direct and proximate result, the city has suffered or will suffer damage to its municipal water distribution system, emergency response costs arising out of the declaration of a state of emergency, attendant ongoing medical claims, lowered property values resulting in lower tax assessments, reputational damage" and other damages, Weaver wrote in the letter to the Michigan Court of Claims. 
The move reportedly blindsided Snyder's office. 
"The mayor's office did not tell the governor's office this was going to be happening, even though key members of the Snyder administration talk daily with key members of the Weaver administration," Ari Adler, spokesperson for Snyder, said, according to the Free Press. "Once the city sues the state, communicating officially will be much more difficult as every conversation will need to involve questions about whether or not lawyers need to be present. And, of course, an open dialogue is more difficult with anyone who has decided to take you to court rather than work together as partners to solve a problem."
However, as the news site notes, the notice of intention to file claim does not necessarily mean that a lawsuit will be filed. Oakes pointed out that, under the law, the city has only 180 days to file a claim once it becomes aware of an issue. That time was essentially running out when the notice was filed. The additional costs the crisis has caused, she added, is an issue that should be dealt with by the state, not the city. 
Read more at the Detroit Free Press.