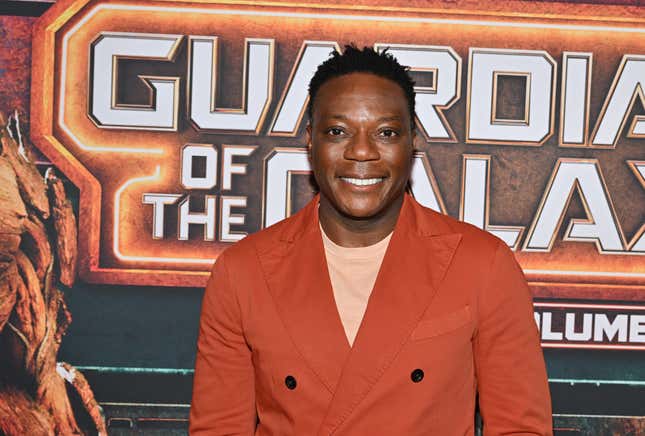 MCU fans are preparing to say a tearful goodbye to some of their favorite, morally questionable misfits in Guardians of the Galaxy Vol. 3. The team is drawn into Rocket's tragic past when they battle the cruel High Evolutionary. His mission to create a perfect world endangers the galaxy, which leads to one final ridiculous adventure for the Guardians. Chukwudi Iwuji, who plays the High Evolutionary, spoke to The Root about bringing the over the top baddie to life.

Chukwudi Iwuji Talks Guardians Vol. 3 & Playing Marvel Villain The High Evolutionary
Unlike other Marvel villains, the High Evolutionary's motivations don't have an emotional center. He has a quest for perfection and nothing will stop him from achieving it. This provided Iwuji an opportunity to have a lot of fun with the character. He got to revel in the bad guy's sociopathic tendencies. He didn't need to worry about taking things too far.
"It was so delicious to explore that side of him. There isn't really a moral compass, but there is a compass. The compass, sadly, isn't really about morals, but more about zealotry. Determination to get what he wants. Deeply dangerous, narcissistic sociopath, but those are fun to play because you have such freedom," Iwuji told The Root. "Those aren't things we explore in general in life, so I didn't have any parameters to stick to, apart from what was in the script and where my imagination took me. It was great to play a villain that was a villain. There seems to be a pressure to make villains kind of sympathetic, so it was great to actually play one that was very purely a villain."
Iwuji notably played Murn in Season 1 of Peacemaker, where his character was ultimately revealed to be a hero. As much as he enjoys saving the day, he—like many actors—has a lot more fun being the bad guy.
"I really enjoyed playing someone so far away from who I actually am. Sometimes that's easier to play and I think that's often what makes villains so much fun," he said. "They're usually further away from who the actor is as a person, than the more heroic characters."
With the MCU exploring the multiverse, there's always a chance Guardians of the Galaxy Vol. 3 may not be the only version of the High Evolutionary we get to see. However, the actor isn't necessarily interested in a softer, more reasonable variant of the character.
"Would I be interested in seeing it as an actor? I would because it'd be wonderful to play something very different. It's really juicy to explore that," he said. "Do I think we need to see that about the High Evolutionary? I think it might be nice to just have someone who's a real villain for a while and see where that takes us."
Guardians of the Galaxy Vol. 3 is now playing in theaters.