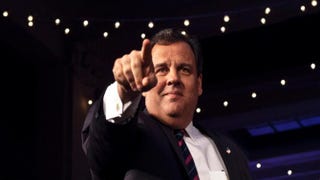 In what he describes as a winning prescription in future elections for the Republican Party, GOP New Jersey Gov. Chris Christie on Sunday urged his constituents to reach out to minority voters.
Christie should know. As the Associated Press reports, he's just off a 22-percentage point re-election win, which he attributes to reaching out to traditionally Democratic demographic groups.
Exit polls show that Christie carried one-third of Democrats and two-thirds of those who called themselves independents during the recent election. He is the first New Jersey Republican to capture more than 50 percent of the vote in nearly a quarter of a century, reports show.
"Getting 51 percent of the Hispanic vote, I'm very proud of that," he said, according to the AP. "Because I've worked hard with the Hispanic community to let them see how our policies can help their families. I've worked hard with the African American community. I've worked hard with seniors and students."
Christie's ability to straddle the tenuous line between both parties has only served to increase speculation about a potential 2016 presidential bid.
"I know everybody is going to be speculating about what may come in my future and lots of other people's future in our party. But the fact is, I am focused on being the governor of New Jersey and being the chairman of the Republican Governors Association," Christie said on Fox News Sunday, one of the four television news shows in which he appeared Sunday, the AP says. "And I think those two jobs will keep me pretty busy over the next year."
Read more at the Associated Press.