If you've ever stood in front of your television and tried to wine it back real low like that dancer in Michael Jackson's "Remember the Time" video during the dance sequence toward the end, or re-created the dance sequence in Aaliyah's "Are You That Somebody" video for a high school talent show, then you're already familiar with choreographer Fatima Robinson's work. 
Or maybe you were obsessed with one of the boy groups from the late 1990s and were introduced to her work from a Backstreet Boys video. Nearly all of America got a front-row seat to Robinson's work a few weeks ago because she choreographed the NBC musical The Wiz Live!
Whatever your introduction to Robinson's work, NBC has picked up a drama series that will be based on her life and work as a dancer-turned-famed choreographer, the Hollywood Reporter reports. The drama will take place in the 1990s, when hip-hop choreography began to be heavily incorporated into music videos and mainstream genres beyond hip-hop and R&B. 
Two producers who worked on The Wiz Live!, Neil Meron and Craig Zadan, are spearheading the Robinson-inspired NBC series. They spoke very highly of Robinson's work, having worked with her in the past.
"We worked with her on the Oscars and knew she was special," Zadan told THR last week. "We hired Fatima Robinson, who is not a Broadway choreographer, to do authentic black dancing. She comes from hip-hop, and a lot of her point of view on dance is very gritty and authentic and raw." 
G/O Media may get a commission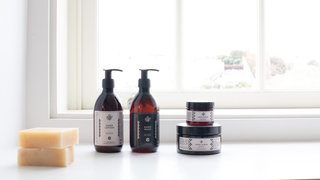 Exfoliate and Hydrate
The Handmade Soap Company
Robinson will be an executive producer on the project and will rightfully serve as choreographer.
Robinson choreographed all of Aaliyah's most iconic videos ("Try Again," "One in a Million," "Four Page Letter," "More Than a Woman," etc.) and Brandy's "Baby, Baby, Baby" video—just to name a few.
The series is going to be good. 
For more of black Twitter, check out The Chatterati on The Root and follow The Chatterati on Twitter.
Diana Ozemebhoya Eromosele is a staff writer at The Root and the founder and executive producer of Lectures to Beats, a Web series that features video interviews with scarily insightful people. Follow Lectures to Beats on Facebook and Twitter.
Like The Root on Facebook. Follow us on Twitter.