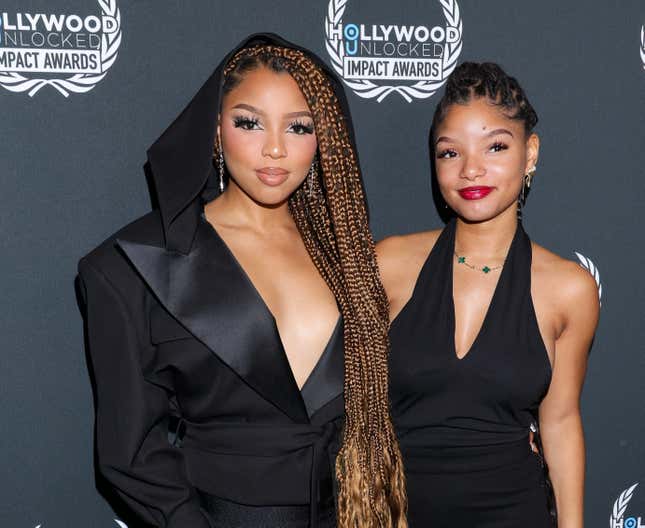 The internet loves sibling rivalries and drama, but you will find none of that between Chloe and Halle Bailey. When rumors that Halle was pregnant started circulating around social media, her sister quickly shut that nonsense down. In a now expired Instagram Live, she made it clear that Halle slander will not be tolerated.

Producer Will Packer Compares Chloe Bailey to Beyoncé | Securing the Bag: Part 5
"Bout to get me riled the hell up," the Swarm actress said. An off camera voice can be heard saying, "We don't play about Halle." The "Have Mercy" singer responds, "No. Like what the heck? Period. And y'all better keep my sister's name out your mouth. Thank you. Amen. Hallelujah."
The duo are extremely supportive of one another, so it's no surprise to see Chloe have her sister's back like this. When Halle was going through the whirlwind promotion tour for The Little Mermaid, no one was prouder than Chloe. You know she's going to make sure no one is trying to get in Halle's business just as her career is taking off.
Let's be clear, it's wildly inappropriate to speculate on whether or not Halle is pregnant. Not only is it none of your business, it could also cause problems for her both professionally and personally. And there's something really patriarchal and gross about how this only happens to young actresses. No one is speculating whether Shameik Moore or Tom Holland are expecting children.
The replies on the video featured a lot of unpleasant comments, because the internet is a hellscape. But there were also several supportive comments commending Chloe for how fiercely she's protecting her sister.
One person cautioned others against taking her words lightly, writing, "Y'all talking about 'ain't nobody scared of you' but believe me when I say this you don't have to be 'scared' of her cause she meant EVERY WORD. Ion play when it comes to my brothers and I'm only gone warn you once (if that)"
Another user reminded everyone what happened with Solange and Jay-Z, replying, "Lmfaooooooo y'all see what Solange did to jay z in that damn elevator for messing with Beyonce' … dont mess with a cancers family !!! All that nice sweet sh*tt goes out the window I like this chloe."
Meanwhile, another person noted how she's just doing what's expected, writing, "She's doing what family is supposed to do which is support and protect each other. I'm here for it."
Chloe and Halle might seem like sweet R&B princesses ready to take over Hollywood, but you've been warned. If you come for one, you will experience the wrath of the other.