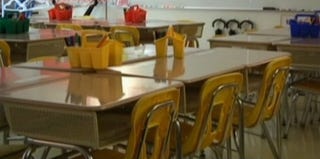 Chicago Public Schools will lay off more than 2,000 employees — more than 1,000 of them teachers — as a result of a $1 billion budget deficit, officials said on Thursday, according to the Chicago Tribune.
Chicago Teachers Union President Karen Lewis accused school officials of lying "to parents, employees and the public about keeping the new school-based budget cuts away from the classroom," the Tribune says.
About half of the 1,036 teachers being let go are tenured. The latest layoffs, which also include 1,077 school staff members, are in addition to 855 employees — including 420 teachers — who were laid off last month as a result of the district's decision to close 49 elementary schools and a high school program.

CPS spokeswoman Becky Carroll said the district was "scraping the bottom" of reserves to provide financial relief and had made cuts in other spending before making layoffs.

"We're not going to be able to cut our way out of this crisis," Carroll said. "Our revenues are simply not keeping in line with our spending increases."

The district again blamed the lack of pension reform for many of its fiscal woes, noting that pension payments are growing this fiscal year by an additional $400 million. The layoffs were the result of "budgetary decisions made by principals or changes in enrollment," the district said in a statement.
Read more at the Chicago Tribune.