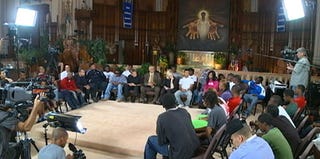 Chicago has posted death statistics that rival the number of soldiers lost in Afghanistan, but some locals are trying to reverse the violence. Recently, ABC News held a televised sit-down, Don't Shoot: I Want to Grow Up, with 38 gang members and peace activists. The group included members of the Black Disciples, Four Corner Hustlers and 2-6 Nation, among other gangs, as well as Father Michael Pfleger of Saint Sabina Church on the city's South Side, where the meeting was held, and Tio Hardiman, the head of CeaseFire Illinois.
Watch below as the group discusses the causes behind the rising gun violence in the city where President Barack Obama began his political career.
Unfortunately your browser does not support IFrames.
Watch More News Videos at ABC | 2012 Presidential Election | Entertainment & Celebrity News
Watch more at ABC News.
Like The Root on Facebook. Follow us on Twitter.