It only took 108 years plus 10 action-packed innings and 4 hours and 45 heart-stopping minutes, which included a rain delay, for the Chicago Cubs to beat the Cleveland Indians in the World Series, breaking the longest professional-sports curse.
According to ESPN, it was the first World Series game to feature a rain delay. It was only the fifth Game 7 winner-take-all game to go into extra innings. And the first game in which the winning team blew a lead in the eighth inning, only to come back and win.
This game was an emotional roller coaster of suspense and anguish and triumph (if you're a Cubs fan). It was arguably the best final game ever played in professional sports.
Here's what ESPN senior writer Jayson Stark said about all of the craziness:

It was a game in which the most unhittable pitchers of this postseason—first Corey Kluber, then Andrew Miller, then Aroldis Chapman—turned stunningly hittable.
It was a game featuring the first leadoff home run in World Series Game 7 history (by the Cubs' Dexter Fowler).

It was a game that Chapman couldn't save—but a man who had never saved a game in his big-league life (Mike Montgomery) could.

And it was a game in which the go-ahead run in extra innings was scored by a man (Albert Almora) who hadn't scored a run in the entire postseason.
G/O Media may get a commission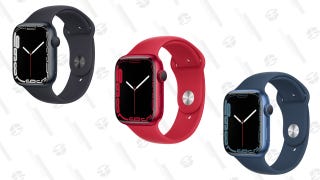 Up To $45 Off
Apple Watch Series 7
 It was a World Series finish that had all the drama of a Hollywood feature and was predicted some two years ago on the day the Cubs hired manager Joe Maddon.
So far, the world hasn't ended, but if Trump wins … never mind.
Read more at ESPN.