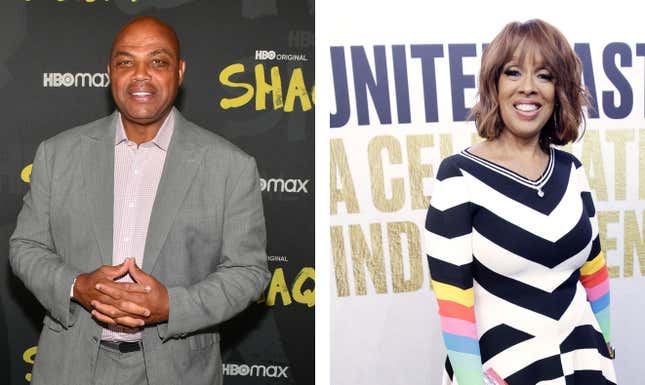 As CNN continues to battle low ratings, the news network has tried to shake things up in recent months. It has had trouble competing in primetime with rival networks MSNBC and Fox News. Now, the originator of 24-hour news is trying something completely unexpected, with The Wall Street Journal reporting that CNN is "finalizing a deal" with CBS Mornings host Gayle King. She would anchor a weekly primetime show for the news network, while also continuing her work at CBS. WSJ adds that Charles Barkley "is also in conversation" to join the project.

A Black Lady Sketch Show Is Our Black TV Pick of the Week
Wow, I have so many questions about this move. First of all, how much money is CNN offering Gayle to join its rudderless ship? From the spectacular failure of CNN+, to its watered-down New Year's Eve coverage, to recent controversies with Chris Cuomo and Don Lemon, things haven't been going well for the news media mainstay. At this point, every new announcement sounds like they're just throwing things at the wall and seeing what sticks. The problem is, nothing is sticking.
King has been doing some extraordinary work at CBS. Her interviews have become must-watch TV and she adds a much-needed air of professionalism and authority to the morning news. So it feels like being on CNN is a step back for her—and that's before we even factor in the idea that she might have to work with Charles Barkley.
The former NBA star is known for his strong sports takes, but commenting on news and politics is a completely different medium. Let's be honest: his mean-spirited, bad opinions are cringe-worthy, and he's just so loud and wrong most of the time. No one is sitting around wondering what Charles Barkley thinks about the war in Ukraine, the rise in hate crimes, or the political divide in the country. Yes, this show can get CNN ratings when it premieres, but in the long term, it doesn't seem like a sustainable competitor to MSNBC and Fox News' popular primetime lineups.
If CNN really wants to shake up its schedule, it can do some actual research and look for smart, engaging, young journalists who can help lead the network into the next phase of media. Relying on the old ways is not going to dig them out of the hole they put themselves in.