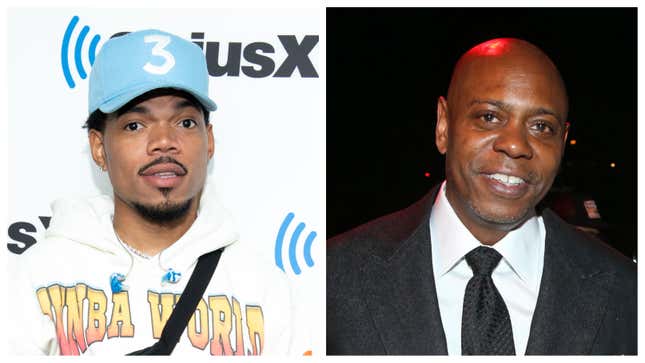 Instead of Chance the Rapper basking in the glow of the recent success of the music event he founded with fellow rapper Vic Mensa—namely, the Black Star Line Festival—the Coloring Book artist is on the defense about the involvement of one person arguably controversial comedian: Dave Chappelle.
Get Ready To Laugh! Comedian Joyelle Nicole Johnson Plays That's So Random
Per Rolling Stone, both Chance and the festival came under fire once it was revealed that Dave would be one of the special guests at the event. Contextually, in Ghana, there's an anti-LGBTQ+ bill that seeks to "criminalizes queer and intersex identity and allyship being championed by a cross-party coalition of parliamentarians in Ghana." It also aims to "criminalize cross-dressing, public affection between two people of the same sex, marriage among same-sex couples, or the intent to marry someone who is the same sex."
Given Dave's checkered history with members of the LGBTQ+ community ( no, seriously, there's a lot there), many questioned what type of message his involvement would send to the burgeoning relationship Chance wants to foster within Ghana. In response to that, the Acid Rap artist explained:
"Again, I wanted everyone to feel as welcome and communal as possible. And so if having Dave there made people feel like they weren't, that they didn't have space or that they weren't welcome, that was not my intention. And I can assure you there are a lot of people at the festival and at the talk from a lot of different backgrounds.

I can't really all the way speak for Dave. I don't want to say what he thinks or what he feels, but what I think I know about him is that he loves everybody, especially his people, meaning Black people, meaning Black people that are trans, Black people that are gay, Black people that are gender non-conforming, people period. And I think that in that space, I would say I don't believe that he bashed trans people or gay people at all throughout the entire conversation."
Additionally, Chance also addressed a comment Dave made at the beginning of their conversation about identity where the comedian reportedly said "I bet gay jokes go over so well here," saying in part:
"Dave was making a comment about the comedy scene in Ghana when he said, "I bet gay jokes go over so well here," to which everybody laughed about. And he was making a point to say that in Ghana, you can make jokes about things that are about gay people, about trans people, about a lot of social constructs, just about anything in the world. But you can't make a comment about the government there. That's not funny and that's not respected, and it can be dangerous. It's the complete opposite where we come from, where we can speak about the government all we want.

I think it was an honest dialogue, where I was giving Dave the opportunity to speak about who we are as a community, because he was taking so much pride in the fact that he was respected as a Black man in Ghana, but I don't know that he would be respected that much if he was a gay Black man in Ghana or if he was trans in Ghana. And just like I've been saying the past year, that we're all over the world as Black people, we're all over the world as gay Black people too.

And I think the point that he made about there needing to be more infrastructure, more comedy clubs, more space for comedians, he was making a point about comedy as a political platform and a space to speak about social issues, and the fact that comedians in Ghana don't have as much space to talk openly about their government."
"If it [Ghana] wants to continue to be a place of refuge for Black folks and a place of pride for Black folks, then it has to accept all Black folks," he concluded.
To read Chance's full interview, head to rollingstone.com.