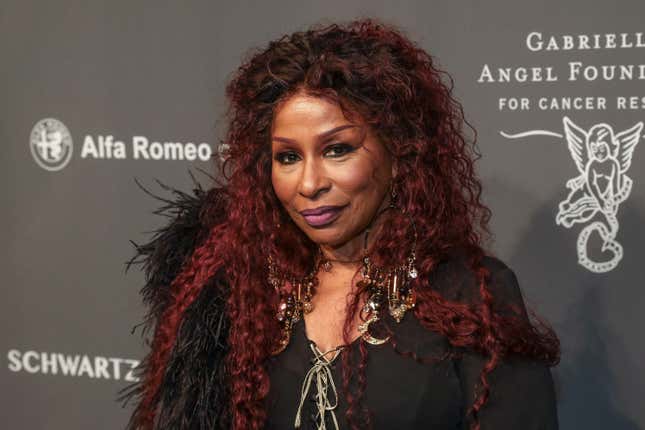 The legendary Chaka Khan recently found herself at the center of controversy after sharing her thoughts about Rolling Stone's "200 Greatest Singers of All Time" list in an interview. While talking with Andrew Goldman on the Los Angeles Magazine podcast, "The Originals," the "Ain't Nobody" singer candidly spoke her mind about the rankings. Now she's saying sorry—even though she shouldn't have to apologize for having an opinion.

Dionne Warwick: Don't Make Me Over Is Our TV Pick This Week
When addressing Mariah Carey being ranked at number five, she remarked: "That must be payola or some sh*t like that." Though Khan claimed to have not seen the list before the sit-down, she had very strong feelings about it. Khan also said that the Rolling Stone editors "need hearing aids" and called them "blind b****es." When told Adele ranked ahead of Khan at number 22, she threw up her hands and exclaimed "OK, I quit!"
Folk singer Joan Baez, who came in at 189 on the list, was also critiqued by Khan. "Let's be honest, the b**** cannot sing!" she said. However, she did call Baez a "good writer." On Sunday (March 5), Khan went to Instagram to address the backlash:
"Recently, I was asked about a list of the 'greatest singers of all time' and instead of questioning the need for such a list, I was pitted against other artists and I took the bait. As artists, we are unfairly put into 'boxes', 'categories' or on 'lists.' Being an artist or musician is not a competition. It's a gift, for which I am truly grateful. It was not my intention to cause pain or upset anyone. To anyone that felt this way, I sincerely apologize. Thank you for all the love everyone has shown me, unconditionally. I have always been about empowering others and I started a foundation for that very purpose. I will be announcing soon. Empowering all artists is most important because we truly are the architects of change...and change begins within the heart. I love you all and God bless."
Though Khan's apology was thorough, it was unnecessary. She is a pioneer in the music industry and is entitled to express her opinion regardless of whether or not it's popular. Not to mention, how many problematic podcast hosts have been rewarded for the exact same thing?