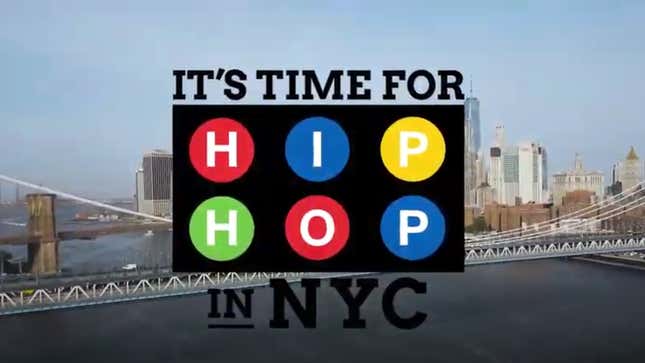 Hip-hop Hooray!

In celebration of Hip Hop culture's 48th anniversary, the Universal Hip Hop Museum and the City of New York presents "It's Time for Hip Hop in NYC."
Per a press release sent to The Root, the aim is to "bring the culture back to the boroughs where it all began" by providing a series of free concerts across various locations. Each series will make its way to pivotal boroughs in NYC that played a major role in the creation and definition of the hip hop sound and style, those include: The Bronx, Staten Island, Brooklyn and Queens.
Anchored in the birthplace of the culture, the Universal Hip Hop Museum's mission is to celebrate and preserve the history of local and global Hip Hop to inspire, empower, and promote understanding.
The festivities kicked off on Thursday night at the Brooklyn Army Terminal with performances from Big Daddy Kane, Desiigner, C&C Music Factory, DJ Mr. Cee, Elle Varner, Judy Torres, Lizzy Ashliegh, Maino, Obasi Jackson, Papoose, PopMaster Fabel, Special Ed, Stetsasonic, Sweet Sensation, and Young Devyn.
If going up on a Thursday was too ambitious, you can kick off the weekend with a trip to the Forest Hills Stadium in Queens on Friday at 4 p.m. to catch George Clinton & The P-Funk All-Stars with Special Guests, Too $hort, DJ Hurricane, DJ Wiz, EPMD, Havoc of the Infamous Mobb Deep, and Yo-Yo. Of course if you do plan on venturing out, you'll have to show proof of vaccination before being allowed in, in accordance with local health and safety protocols.
If you're like me and are thousands of miles away from the city that never sleeps, don't sweat it! You can also catch the livestream by tuning into the Behind The Rhyme channel on Twitch.
The Universal Hip Hop Museum is expected to open sometime on 2024.