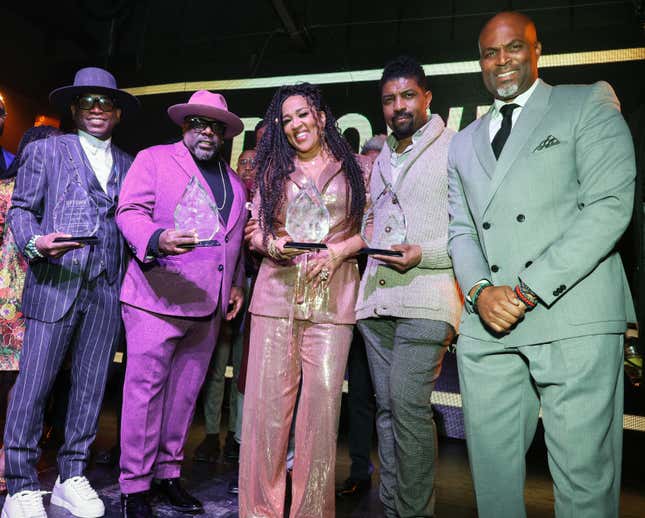 Being a Black comedian isn't exactly the easiest job in the world, but thankfully, Lexus and Uptown Magazine have combined superpowers to create Uptown Honors Hollywood, which celebrates legendary figures in comedy for their contributions to the arts, culture, and entertainment.
Cedric The Entertainer Talks The Neighborhood, Bombing Jokes, & Raps Jay-Z on That's So Random
This year's honorees consist of luminaries Guy Torry, Cedric the Entertainer, Deon Cole, and fan favorite Kym Whitley, who converged upon Sunset Room Hollywood on Wednesday night to receive their flowers and celebrate their accomplishments.
"Ain't nobody honoring us, I promise you," Cole told the crowd to raucous applause. "This means something to us. We're excited to be here because we're probably not going to get this again."
During his acceptance speech, the The Harder They Fall star took the time to thank host Chris Spencer, Anthony Anderson, and fellow Uptown Honors Hollywood honoree Guy Torry for the roles each of them have played in his success, from taking Cole on tour to helping him flesh out material for his stand-up routines.
"Anthony, I love you to death. You changed my life. You and Kenya Barris. Y'all changed my life," Cole said of his breakthrough role on Black-ish. "Y'all believed in me. Ya'll gave me an alley-oop that nobody else gave me. I appreciate you so, so much. Thank you so much."
Later that night, Cedric the Entertainer took the podium and thanked the comedians that paved the way for both him and his peers.
"It's great to be recognized," he began. "When you're a comedian, you don't really know where your career is gonna go. We all [watched] great comedians when we started that inspired us to get on stage. A lot of us come from that era of Richard Pryor, Redd Foxx…then of course came those giants that came in another way. The great Eddie Murphy, Martin Lawrence, [Dave] Chapelle, Kevin Hart. Our contemporaries are doing it on a really big level. We see these kinds of things and that's very important. It all inspires us to do what we do. To go on that stage each and every night and make people laugh and perform. This is a blessing."
Shout out to Lexus and Uptown Magazine for ensuring that our legends get their due and of course, much love to each of the beloved comedians who were honored on Wednesday night.