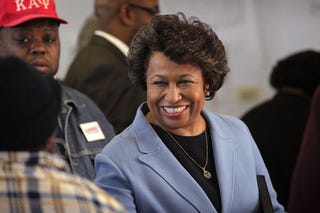 The Rev. Jesse Jackson held a meeting on Wednesday night to try to unify two of the black Chicago mayoral candidates: U.S. Rep. Danny Davis and former U.S. Sen. Carol Moseley Braun. Jackson and other African-American leaders hope that if only one of these candidates runs for election, there will be a better chance for the city to have a black mayor.
"They know it's going to be difficult to get two candidates through the race. There will be two losers and no winner," Jackson said. "It's difficult to get one camel through the eye of the needle. It's impossible to get two."
Both candidates vowed that they would continue to run, even though they agree on many issues facing Chicago's black community.
Read more about this story at the Chicago Tribune.