Behind every great woman is a man waiting to take credit for her success, and our new fave, Cardi B, is no exception.
TMZ reports that Cardi's former manager has filed a $10 million lawsuit against her, claiming that he is responsible for her meteoric rise from Instagram personality to the trap Selena, and that she repaid him for his efforts by cutting him loose.
Klenord Raphael, who goes by the name Shaft, alleges in his lawsuit that his relationship with Cardi—whose real name is Belcalis Almanzar—began in 2015 when she sought him out to help make a name for herself in the music industry.
Shaft says he is responsible for fostering the relationship between Cardi and the VH1 series Love & Hip Hop, and that he taught her about the music business.
Shaft's biggest claim is that he, along with his personal contacts and team of writers and producers, is responsible for her breakout and chart-topping hit, "Bodak Yellow." To his credit, Klenord Raphael is listed as both a songwriter and producer on "Bodak Yellow."
G/O Media may get a commission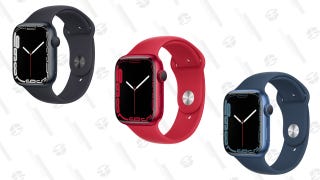 Up To $45 Off
Apple Watch Series 7
It is that hit, Shaft says, that got her major record and publishing deals worth millions. Apparently, Shaft feels as though he deserves more of a cut than he already got.
The suit also claims that Cardi told her fiance—Migos rapper Offset—and others that Shaft robbed her blind. This reportedly resulted in Offset sending Shaft a text message in December that said, "[U] better stop play acting like u don't know u taking her sh** from her u a snake. U can't hide from me N***** and u not bout to play my WIFE."
A rep for Shaft told TMZ, "Shaft is disappointed by her actions to freeze him out of her career."
Sounds more like Shaft is trying to figure out a way to continue to profit off of someone who no longer wishes to be his client.