Cardi B accomplished something this week that no other woman—not even Beyoncé—has ever done: She currently has five hits in the top 10 on the Billboard Hot R&B/Hip-Hop Songs chart at once.
As Billboard notes, Cardi B is only the third artist to accomplish this; both Drake and Kendrick Lamar have done it before. What makes this even more special is that Cardi is the first person to do it with her first five chart entries.
I know my co-workers, my friends and everyone else around me is tired of hearing me talk about Cardi B. Last week or the week before, I pitched a post I wanted to write about Cardi B to my editor, Yesha Callahan, and your mama was dead-ass like, "No." So imagine the joy that went through my body when Corey Townsend, our weekend social editor, posted this news in Slack.
I legit typed in all caps: "ME. I WANT TO WRITE THIS. CARDI B IS MY PRESIDENT."
And so now I get to write the post that I pitched in the first place but Yesha turned down. It has a news peg and a new purpose.
G/O Media may get a commission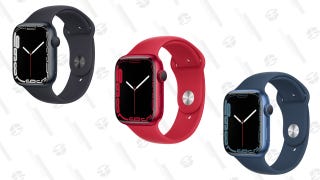 Up To $45 Off
Apple Watch Series 7
My president got me out here winning.
Cardi's songs and features are holding the 1, 3, 4, 7, and 10 spots on the chart.
In the No. 1 spot is her feature on Bruno Mars' "Finesse." This song is a bop. I love the '90s vibe and the homage to In Living Color in the video. Bruno Mars is dope as hell, but Cardi really makes this song for me. Plus, I like how she slowed her cadence down and enunciated every word so we understand clearly what she's saying.
This song moved from No. 16 to No. 1 in its first week. Recognize the talents of the performers. Put some respeck on their names. Don't @ me.
This is Cardi's second appearance in the No. 1 spot. "Bodak Yellow" held that position for six weeks from September to October 2017.
G-Eazy's "No Limit" is holding down the No. 3, slipping from No. 2 this week. G-Eazy released this in September, capitalizing on the heat Cardi already had going with "Bodak Yellow."
Cardi didn't just write a hot verse; she made this a hot song (again, don't @ me).
I like G-Eazy enough, but I only noticed him because of this song with Cardi; before I heard this song, I had never heard of him.
Anyway, I love this feature for Cardi. My favorite part is when she says, "My career taking off; these hos jogging in place."
Yesssssssssss, Cardi. Do your thing, bitch.
"Motorsport" by Migos is in the No. 4 spot and features Cardi B and Nicki Minaj locked in the most vicious tongue-twisting rhyme battle that ever happened in subs.
I have always maintained that Cardi was the best thing about this song, too. Nothing against Migos, but she brings all the energy to this song. Nicki is good, but as VSB's Panama Jackson said to me when we discussed it, she does what Nicki always does.
Cardi, however, comes extra hard. She's had her come up. It's still happening for her, and she wants to continue this ride for as long as possible. She brings her A game, and she gives us everything we want from her: sex, feminine bravado, fast rhymes that show us that Cardi B attitude, and a readiness to battle even Nicki Minaj to get that crown.
And yes, she is the trap Selena, because we will do anything for Belcalis.
"Bartier Cardi," Cardi's latest single from her forthcoming album, is in the No. 7 spot. It moved up from the No. 9 spot and features rapper 21 Savage. It's growing on me. It's basically "Bodak Yellow" with a dude rapping on it, and that is what makes it work. It gives us something new to bop to from the same Cardi we already love. This is her formula, and it is working for her, so why change it up now?
"Say, little bitch, you can't fuck with me if you wanted to" is a mood, a motto and an anthem. "Bodak Yellow," Cardi's first single, spent six weeks in the No. 1 spot and is now holding steady at No. 10.
I feel this song in my chest every time I hear it, because as Cardi relishes in her extreme come up, I, too, relate to her story.
This song is for anyone who has ever had a dream and worked hard to make it a reality with steady grinding.
You know what is the best part of all this?
We watched Cardi have a full fangirl moment when Beyoncé took a picture with her at the Made in America Festival.
Beyoncé seemed equally enthralled with Cardi, and the Queen laid hands on Cardi, and now look.
Beyoncé had four hits in the top 10 at once before. Now Cardi has broken that record.
Nothing but respect for my new president.