Last night was a lot.
As the first woman to headline last night's Rolling Loud Festival, we should be celebrating this pivotal moment in Cardi B's career. But instead of showering Cardi with praise for her achievement, the Internet is abuzz with this:

During her set, Migos rapper Offset crashed the stage to apologize in front of the world for cheating on his wife. Which in theory sounds like a well intended public display of contrition until you remember:
1. He stole Cardi's moment.
2. Had he kept that same energy from the jump instead of embarrassing the mother of his child in front of the entire world, he would've never needed to apologize in the first place.
3. His overtures were ill-timed, unwanted, selfish, manipulative and the textbook definition of harassment.
4. He stole Cardi's moment.
Which are all points Twitter was quick to point out:
G/O Media may get a commission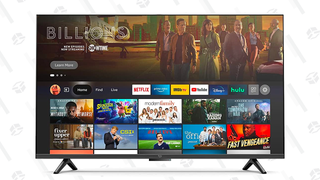 22% off
Amazon Fire TV - 50" Omni Series 4K - Early Access Deal
And I did mention ill-timed, right?
But Offset's behavior aside, how in the hell was this even allowed to happen? We're talking about the headlining act. There's no way that Rolling Loud was in on it too, right?
Well as our own Monique Judge noted, that appeared to be the case:
But despite Offset's selfish actions, it's important to remember that this fiasco involves real people with real feelings going through a very real divorce.
Which put Cardi in the uncomfortable position of having to be the bigger person and defend him—as if he didn't just steal her moment.
"Right, wrong, or indifferent, I don't want people to keep doing fuck shit," she said in a clip posted on Instagram. "Violating my baby father is not going to make me feel any better."
However, in a subsequent clip she posted about an hour afterward, she clarified that she wasn't condoning Offset's behavior. Instead, she was merely trying to protect her estranged husband from relentless harassment and abuse online.
"I see a lot of people bashing me because they see my baby father and think that I'm gonna get back together with him," she said in the clip. "I just don't like that bashing online thing. You just saw how Pete Davidson was talking about how he don't even wanna be on this Earth because mad people be coming at him every single day."
None of us have any idea how this ordeal will play out, but I do know that if Offset really loved his wife as much as he claims he does, he wouldn't have tried to clean up a mess he made on her time.
But also of note, Rolling Loud should be ashamed of their role in this debacle. Because they made a conscious decision to sacrifice Cardi's moment—as well their reputation—in exchange for some retweets and Google search results.
Updated: Sunday, Dec. 16, 2018, 7:14 p.m. ET: In response to this article, Rolling Loud has reached out to The Root and issued the following statement:
"Headliners and their teams have full control of the stage and who is allowed on it during their set at Rolling Loud. The festival does not interfere with or influence a headliner's set list. We have never and will never do anything to change a headliner's set. We were tipped off that something was going to happen, but had nothing to do with the organization or execution of it.
Rolling Loud is proud to provide the platform for a queen like Cardi B to absolutely slay her performance. Despite the stunt, she performed hit after hit and electrified the crowd with her talent, energy, choreography, and set design. Cardi B proved herself as a top tier headliner last night, and that should be the story. We look forward to continued business with her in the future."